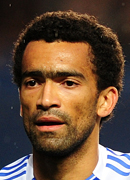 José Bosingwa
Squad No: 19
Position: Defender
Age: 30
Birth Date: Aug 24, 1982
Birth Place: Mbandaka
Height: 6' 0" (1.83m)
Weight: 75 kg
2012/13 Barclays Premier League
| GAMES | GOALS | ASSISTS | SHOTS |
| --- | --- | --- | --- |
| 23 | 0 | 1 | 13 |
JOSÉ BOSINGWA
Perhaps one of the most attacking full-backs in the game, Bosingwa's pace and ability to get up and down the flanks creates problems.
Though born in Zaire (now the Democratic Republic of Congo), he moved to Portugal as a child, beginning his professional career with Freamunde before making his name initially with Boavista. Like many modern Portugese players, however, Bosingwa's stock rose yet further after playing for FC Porto. He joined the club in 2003 and was an unused sub at the 2004 Champions League triumph.
He moved to Chelsea in the summer of 2008 in a £16.3 million transfer which saw him keep Paulo Ferreira out of the Chelsea side. It was Ferreira who had started at right-back in the 2004 Champions League final.
Bosingwa was excellent in the 2008-09 season, a danger going forward with great delivery and even the ability to score from distance. It was a surprise that he was initially linked with a move to Bayern Munich at the start of an injury-ravaged 2009-10 campaign.
He was ruled out injured in October 2009 and did not play again that season, meaning he was forced to miss the World Cup finals.
Bosingwa made his debut for Portugal, who he qualifies to play for through his father, in a 2-1 win over Belgium in June 2007. He was then named in the squad for the 2008 European Championships and his performances led to him being named in the team of the tournament.
Strengths: The archetypal wing back: fast, direct, dangerous and effective at both ends of the pitch.
Weaknesses: Can get caught at the back due to his style of breaking down the wing.
Career high: Being named in UEFA's team of the tournament for Euro 2008.
Career low: Was involved in a serious jeep crash in May 2005 with four other footballers which led to one, Sandro Luis, having his foot amputated. The jeep rolled off the motorway and burst into flames. Bosingwa was suspended by Porto and out of favour for much of the following campaign.
Style: Bosingwa will run up and down the right flank all day, always available for the overlap to deliver into the attacking players.
Quotes: "The biggest compliment should go to Jose [Bosingwa] because I think it was the second time in his life that he played at left back and it was against [Lionel] Messi. But you couldn't see Messi on the pitch today." Chelsea goalkeeper Petr Cech following a Champions League tie against Barcelona in April 2009.
Trivia: Bosingwa played as a striker and also as a defensive midfielder as a youth player.