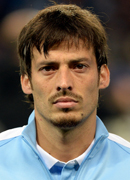 David Silva
Full Name: David Silva
Squad No: 21
Position: Midfielder
Age: 28
Birth Date: Jan 8, 1986
Birth Place: Arguineguín
Height: 5' 7'' (1.70m)
Weight: 67 kg
2013/14 English Premier League
| GAMES | GOALS | ASSISTS | SHOTS |
| --- | --- | --- | --- |
| 24 | 7 | 9 | 47 |
DAVID SILVA
This gifted winger made his debut for Spain in November 2006 and was one of the best players in the Spanish league over recent seasons.
After impressive loan spells with Eibar and Celta Vigo early in his career, Silva, who was spotted by Valencia playing in the Canary Islands aged 15, was hurried back to the Mestalla for the start of the 2006-07 season. Taking the No. 21 shirt from departing playmaker Pablo Aimar, Silva wasted little time in assuming creative responsibilities and linked up well with team-mate and fellow Spaniard David Villa.
Valencia may have suffered no end of financial problems but, despite the close attentions of a number of top sides, Silva showed admirable loyalty in remaining with the club and was rewarded in 2007-08 when winning his first major trophy in the shape of the Copa del Rey. However, he then chose to continue his career at Manchester City after picking up the World Cup in the summer.
Strengths: Silva is an excellent footballer who is equally at home as a conventional winger, a wide man in a front three or in the hole behind the strikers. A sprightly dribbler with a creative eye, Silva is a master at teeing up his team-mates.
Weaknesses: There is a suspicion that Silva is a bit lightweight and can too easily be muscled off the ball. He could also contribute more goals having scored a total of just 17 in the Primera Liga between 2005 and 2009.
Career high: Winning the 2010 World Cup.
Career low: Missing out on the Champions League places at the end of a tumultuous 2008-09 season that saw Valencia embroiled in financial troubles.
Style: Dynamic, exciting, fluid, a real livewire.
Quotes: "Logically Kaka has won more and done more in the game, but David is heading that way with steady performances. If I had to choose either, I'd stay with David." - Valencia coach Unai Emery, September 2009
Trivia: Of Asian descent on his mother's side, rumours began circulating that Silva was an excellent machete fighter. This has since been denied.