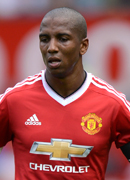 Ashley Young
Squad No: 17
Position: Midfielder
Age: 28
Birth Date: Jul 9, 1985
Birth Place: Stevenage
Height: 5' 9'' (1.75m)
Weight: 127 lbs (57.7 kg)
2013/14 English Premier League
| GAMES | GOALS | ASSISTS | SHOTS |
| --- | --- | --- | --- |
| 18 | 2 | 1 | 13 |
ASHLEY YOUNG
Young first burst onto the scene as a promising winger at Watford, but showed he had the credentials to perform at the top of the game after a four-year spell at Aston Villa and joined Manchester United in the summer of 2011.
A fast, tricky winger, Young announced himself as one of the best attacking players in the Premier League upon Watford's promotion and his excellent delivery from set-pieces and consistently impressive form saw him earn a £9.75 million move to Aston Villa.
Despite his potential, Young was forced to wait for his international debut until November 2007 and was in and out of the England side for the years afterwards; missing out on the 2010 World Cup squad, despite winning the 2009 PFA Young Player of the Year award.
With Villa slipping down the table, Young took the chance to push his career up a notch and joined champions Man Utd for a fee of around £15 million with the hope of securing himself a first-team place in the England team.
Strengths: With pace, dribbling ability and a superb cross, Young has every attribute he needs to be a great winger.
Weaknesses: Strength and heading ability eludes him, but his game is based on other things.
Career high: In 2007-08 he was the only outfield player to be named in the Premier League Team of the Year that was not from a 'Big Four' club after some blistering form.
Career low: Being overlooked by Fabio Capello for England's preliminary squad for the 2010 World Cup.
Style: Fast, tricky, precise, an excellent attacking weapon.
Quotes: ''I work with Ashley every single day and he is a sensational player who has the ability to produce moments like that on the big stage. He is eight-and-a-half stone wringing wet but he has the heart of a lion.'' Martin O'Neill, December 2008.
Trivia: He became the first ever player to win three Player of the Month awards in the same year (2008).