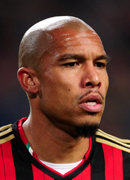 Nigel De Jong
Squad No: 34
Position: Midfielder
Age: 29
Birth Date: Nov 30, 1984
Birth Place: Amsterdam, Netherlands
Height: 1.75m
Weight: 159 kg
2013/14 Italian Serie A
| GAMES | GOALS | ASSISTS | SHOTS |
| --- | --- | --- | --- |
| 30 | 0 | 3 | 13 |
NIGEL DE JONG
De Jong came of age on the international stage at Euro 2008 as Netherlands looked a superb, counter-attacking outfit in winning all three of their group games and scoring nine goals in the process. De Jong, playing alongside Orlando Engelaar in central midfield, was the perfect shield for the Dutch to push forward and break on the opposition. He made his international debut in March 2004 in a friendly game against France though did not make the squad for Euro 2004.
He began his domestic career with Ajax Amsterdam, coming through the Eredivisie club's famous youth system to make his debut in October 2002, but he left for Hamburg in the summer of 2006 and became one of the legion of Dutch players to move to the Bundesliga.
De Jong's performances at Euro 2008 attracted the interest of Manchester City boss Mark Hughes. Despite the fact he would have been available on the cheap in the summer of 2009, Hughes opted to pay £18 million to sign him in January, and he has proved highly effective during his time at Eastlands. His stock rose as he reached the World Cup final in 2010, even if his aggressive style drew some criticism.
Strengths: Strong on the ball and in the tackle, De Jong's versatility makes him a very useful option. He can play across the back four or in midfield.
Weaknesses: Limited in terms of creativity and his aggressive approach means he runs the risk of suspensions.
Career high: Bagging the winning goal as Hamburg inflicted upon Bayern their first ever defeat in the Allianz Arena in January 2006.
Career low: Missing the finals of the 2006 World Cup through injury.
Style: Robust and committed.
Quotes: "My game is based on giving 200%, making tackles and protecting the defence. When I get the ball I give it to guys who are more creative than me. I suppose you could say that I'm the water carrier. I don't mind that description!" - Nigel de Jong, October 2009
Trivia: De Jong runs a firm that specialises in customising luxury cars. As boss of De Jong Motors, he loves nothing more than to pimp up the cars of the rich and famous.