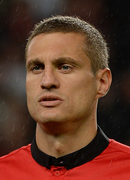 Nemanja Vidic
Squad No: 15
Position: Defender
Age: 32
Birth Date: Oct 21, 1981
Birth Place: Uzice, Yugoslavia
Height: 6' 1'' (1.85m)
Weight: 185 lbs (83.8 kg)
2013/14 English Premier League
| GAMES | GOALS | ASSISTS | SHOTS |
| --- | --- | --- | --- |
| 21 | 0 | 0 | 12 |
NEMANJA VIDIC
A virtual unknown before moving to Manchester United from Spartak Moscow in January 2006, Vidic is now considered to be one of the best defenders in the world. His partnership with Rio Ferdinand has formed a rock at the centre of the Red Devils' defence for several years.
Vidic began his career with Red Star Belgrade, and was soon made the club's skipper. Even at that stage he had shown his ability to be a goalscoring defender, notching 12 in 67 games for his club. After winning the Serbia and Montenegro double in 2004 he moved to Russia with Spartak. Two years later he was signed by United for £7 million.
His United career started slowly with some critics wondering if he had the quality to adapt to life in the Premier League. But in 2006-07 he was one of the best players in the English top flight and has rarely suffered a drop in form since then, winning four Premier League titles and the Champions League.
Vidic has represented several sides internationally due to the break up of the old Yugoslavia. He played youth international football for Yugoslavia before going on to play for Serbia & Montenegro and then Serbia. He was part of the hugely impressive Serbia & Montenegro defence dubbed the "famous four" (Mladen Krstajic, Ivica Dragutinovic and Goran Gavrancic being the others).
That back four conceded just one goal in the 2006 World Cup qualification campaign but, sadly, Vidic he did not feature for a single minute at those finals in Germany, kept on the sidelines by suspension and an ill-timed knee ligament injury.
He has established himself in the world-class category since arriving at Old Trafford from Spartak Moscow in the January 2006 transfer window. He did not put a foot wrong for the Serbs in 2010 World Cup qualification, prompting coach Antic to shower him with praise: "He's not so much a rock as a mountain range.
In 2010, amid reported overtures from Real Madrid, Vidic pledged his long-term future to United by penning a five-year deal and was made captain by Sir Alex Ferguson as a reward for his on-pitch influence and his loyalty.
Such were Vidic's leadership qualities, he was made the club's skipper, replacing Gary Neville. After lifting the title with United in 2011, the Serbian was dealt a huge blow when he was ruled out for the remainder of the season after twisting his knee during a Champions League clash at Basel.
Vidic returned in the summer of 2012, but suffered a fitness setback in Septmeber when he was forced to undergo surgery on the same knee he injured in 2011.
Strengths: Strong and powerful, good in the air and a weapon from set-pieces at the opposite end.
Weaknesses: Has been known to struggle with the ball played over the top, also short on pace.
Career high: Winning the Champions League with Manchester United in 2008.
Career low: Missing out on playing at the 2006 World Cup finals initially through suspension and then an injury picked up in training.
Style: Aggressive and imposing, Vidic is a no-nonsense central defender who leads the back-line superbly.
Quotes: "Nemanja was magnificent. It was the best performance you are likely to see from a natural centre-half. His reading of the game is excellent and he is as tough as nails. He was absolutely superb." Sir Alex Ferguson, after victory over Wigan in January 2009.
Trivia: United fans have a song where they sing that Vidic will "murder you". Vidic said of this: "I know the words. I want to win and do my best no matter what. I really thank them for their support - but I am not a killer."