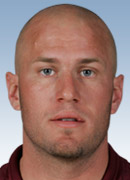 Conor Casey
Squad No: 17
Position: Forward
Age: 32
Birth Date: Jul 25, 1981
Birth Place: Dover, New Hampshire, USA
Height: 6' 1'' (1.85m)
Weight: 190 kg
2014 Major League Soccer
| GAMES | GOALS | ASSISTS | SHOTS |
| --- | --- | --- | --- |
| 5 | 0 | 0 | 5 |
CONOR CASEY
Always a candidate for Man of the Match in the MLS, Casey is having a lights-out year for the Colorado Rapids. His play in Denver helped him on to the Confederations Cup roster.
Casey likely stamped his spot on the U.S. World Cup roster with two goals in a 3-2 win over Honduras in San Pedro Sula on Oct. 10, which clinched the Americans' spot at the world party.
His scoring spree began at the University of Portland, where, as a sophomore in 2000, he led the NCAA with 23 goals.
From the Pacific Northwest, Casey moved to Germany. He spent seven years with four different clubs in the country -- Borussia Dortmund, Hannover 96, Karlsruhe and FC Mainz. Dortmund signed him for four years.
However, after Casey played for the Dortmund reserves in his first season, the club loaned him to Hannover for 2001-02. Casey returned to his Portland form, scoring seven goals in 19 games, helping Hannover back to the Bundesliga's first division. Still, Casey didn't make the trip up.
Casey only saw action in four games with Dortmund the next year, scoring a goal. He returned to the second division in 2003-04, on loan with Karlsruhe, where he scored 14 goals in 30 games. Casey finished up his German experience with two years with FSV Mainz.
He scored two goals in 28 appearances. However, Casey played in only 10 games in 2005-06 due to a knee injury. He returned stateside, joining Toronto FC in '07, but early in the season was traded to Colorado for a third-round draft pick in the '08 SuperDraft, an allocation, and the MLS rights to Canadian player Riley O'Neill.
With the Rapids, it's been Portland all over again for Casey. Despite entering the season rehabbing an offseason ACL injury, missing the team's first nine games, Casey led the Rapids in '08 with 11 goals. That showing helped him see his first time with the national team since '05 under Bruce Arena.
Casey has 16 goals for the Rapids this season. Last year he came on as a sub in the last game of the semifinal round of World Cup qualifying, playing 15 minutes in the 2-0 win against Guatemala on Nov. 19 in front of his hometown Denver fans. Casey started his first game under Bradley and his first for the national team since '05 in a 2-1 victory over Honduras on June 6 of this year at Soldier Field in Chicago.
Strengths: He can score, period. Great finisher.
Weaknesses: His size sometimes slows him down.
Career high: Scored a his first MLS hat trick in a 5-4 win over the Red Bulls last September.
Career low: Played in just 10 games for Germany 's FSV Mainz in 2005-06 after suffering a knee injury with the U.S. national team.
Style: Relentless and hard on the ball; tough to bring down.
Quote: "It's rewarding. But like I've said, you always want more." -- after returning home from the Confederations Cup in July.
Trivia: Led the NCAA in scoring with 23 goals and seven assists at the University of Portland in 2000.
Soccernet says: Has a great chance to make the team as a reserve. At one point, it seemed Casey might have to hold off Eddie Johnson and Kenny Cooper for the spot. Not anymore.