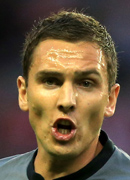 Stewart Downing
Squad No: 19
Position: Midfielder
Age: 29
Birth Date: Jul 22, 1984
Birth Place: Middlesbrough
Height: 1.80m
Weight: 64 kg
2013/14 English Premier League
| GAMES | GOALS | ASSISTS | SHOTS |
| --- | --- | --- | --- |
| 29 | 0 | 2 | 39 |
STEWART DOWNING
Downing has made a name for himself in the Premier League as an excellent crosser who scores his fair share of goals, and is seen as one of the best English midfielders around.
The winger cut his teeth with Middlesbrough and even joined arch rivals Sunderland on loan when he was not getting a game, however it did not take him long to get into the Boro first-team and the 2004-05 season saw him establish himself as one of the side's best players.
The Middlesbrough native made his international debut against Holland in 2005 but sustained a serious knee injury while on a tour of the US with England which curtailed his development, but he returned to secure a place in the 2006 World Cup squad.
His energy, creativity, ability to beat a man and crossing skills marked him out as a dangerous customer and a real asset to Boro, but when Villa came calling in July 2009 with a £12 million bid, they had to let him go.
Despite not being fit to play again until December, Downing eventually made a real impact on the flank at Villa Park. His incisive play won much praise, even after some indifferent performances for his country, and he won the 2010-11 Player of the Year award at his club after another successful season.
Improving every year, it was no surprise when Liverpool targeted Downing and put in three bids - the last of which amounted to around £20 million - which was finally accepted in July 2011. He joined the Reds on July 15, 2011, inking a "long-term" deal.
Strengths: A versatile player who is happy on either wing, Downing's crossing is excellent and he uses his pace and skill well down the flanks.
Weaknesses: Exposed when playing in a defensive role, the inconsistency that followed him earlier in his career is still a concern.
Career high: A stunning performance in Boro's amazing comeback against Steaua Bucharest in the 2005 UEFA Cup at the Riverside as he was involved in all four goals in a masterclass of wing play.
Career low: A knee injury saw Downing sidelined for five months at the end of 2005, and saw him miss most of the run to the UEFA Cup final.
Style: Quick, incisive, accurate, a tricky winger to play against.
Quotes: "A sensational find". Lazio star Fernando Couto describes Downing after a mauling by Boro in 2005.
Trivia: Downing is a DJ in his spare time. ''I play funky house. My mates help out and DJs I know send me stuff which is helpful. I would love to do it more,'' he said.