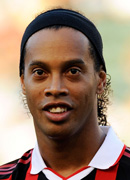 Ronaldinho
Squad No: 10
Position: Forward
Age: 34
Birth Date: Mar 21, 1980
Birth Place: Porto Alegre
Height: 5' 11" (1.80m)
Weight: 80 kg
RONALDINHO
Everyone was surprised at Gremio de Porto Alegre when Ronaldo Assis de Moreira presented himself in the team's junior divisions. Tall and lanky, the kid that would later be known to the world as Ronaldinho surprised everyone with a mix of goals, skills and a large repertoire of crafty moves.
Two years later he was making his debut with the club's senior team, with which he would become champion of the Rio Grande do Sul tournament in a performance that made him one of the most outstanding players of his team: he scored 15 goals in 14 games.
Paris Saint Germain got his services and with them Ronaldinho made his debut in the European game. In the meantime, he was world champion with the national team in 2002, but with his French club he was unable to develop properly, and after several seasons he moved to Barcelona. There, the best version of the Brazilian player came through: he won two Liga titles and became the undisputed idol of the club, a condition that he later validated by winning the UEFA Champions League.
After the arrival of Pep Guardiola at the helm of the team, Ronaldinho stopped being considered for the first-team. His poor performances, his lack of training discipline and frequent injuries, some of them regarded as doubtful by the club's management, ended up making him leave Barcelona. AC Milan was his destination, but he lasted less than three years at the club before heading back to Brazil to play for Flamengo in Janury 2011.
Strengths: Skillful by nature, his tricks are unparalleled and he is wonderful with the ball at his feet. One of the coolest players in pressure situations.
Weaknesses: His off-pitch problems hindered his development and he has lost the pace that made him most dangerous.
Career high: Picking up two World Player of the Year awards in two years, 2004 and 2005.
Career low: His exit from Barcelona and his difficult adaptation to Italian soccer was the worst moment of his career.
Style: Brash, skilful, tricky, an uninhibited playmaker.
Quotes: "There are not many players who can offer goalscoring passes like he can. He is just marvellous. He is a rare case of an assist man who can provide the ball from anywhere." Former Milan and Portugal midfielder Rui Costa.
Trivia: Ronaldinho became a player for Gremio following the advice of his older brother Roberto, who suffered a serious injury and was forced to quit.