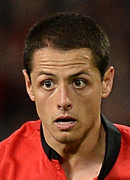 Javier Hernández
Full Name: Javier Hernandez Balcazar
Squad No: 14
Position: Forward
Age: 25
Birth Date: Jun 1, 1988
Birth Place: Guadalajara, Mexico
Height: 5' 9" (1.75m)
Weight: 62 kg
2013/14 English Premier League
| GAMES | GOALS | ASSISTS | SHOTS |
| --- | --- | --- | --- |
| 21 | 4 | 3 | 18 |
JAVIER HERNÁNDEZ
Javier Hernandez, nicknamed Chicharito ("Little Pea"), has quickly climbed up the ranks of world football. As top scorer in the Primera Division de Mexico with 17 goals, he earned a place in the Mexico squad for the 2010 World Cup and a transfer to Manchester United.
Hernandez comes from a family of football players, and made a name for himself at one of Mexico's most popular clubs, Chivas de Guadalajara, who were patient enough to bring him up as a pro after he was left out of the Mexico Under-17 side that grabbed World Cup glory in Peru 2005.
His nickname, "Chicharito", is a derivative from his father's moniker, "Chicharo" Hernandez, a former Chivas player who also wore the national colours during the Mexico World Cup 1986. But his football genes can be traced even further back in his lineage to his grandfather Tomas Balcazar, also a star player for the Rebano Sagrado (Sacred Herd) of Chivas.
Hernandez made his Chivas debut in 2006, while his national team bow came in 2009 against Colombia; his excellent start during the Bicentenario (Bicentennial) 2010 tournament motivated Javier Aguirre to give him greater consideration for a position in the national team. He responded by scoring four times in three games: two against Bolivia, then New Zealand and North Korea.
His move to Old Trafford came as somewhat of a surprise to the watching world before the World Cup, but after an impressive finals, in which he scored against France and Argentina, it became clear that United had signed a gem of a player. Hernandez was expected to take a while to bed in but after some sensational displays from the substitutes' bench, he displaced Dimitar Berbatov as Wayne Rooney's strike partner in the second half of the season. Crucial goals against Stoke, West Brom, Marseille and Chelsea were among an unbelievable haul of 20 goals as he won the hearts and minds of pundits and supporters alike, winning the Sir Matt Busby Award for United Fans' Player of the Season.
Hernandez carried his good club form into the national side and his seven goals helped lead Mexico to a 2011 Gold Cup triumph -- with Chicarito winning both the Golden Boot and the Most Valuable Player awards. He was consequently offered an improved five-year contract at Old Trafford which he signed in October.
His second season in Manchester was not quite so spectacular however and a series of niggling injuries and the emergence of Danny Welbeck ensured that the "Little Pea" did not enjoy a regular spell in the side. However, he did manage to score 12 goals in 36 appearances in all competitions, continuing his knack of netting important, and often late, goals.
The big-money signing of Robin van Persie appeared to push Hernandez even further down the pecking order. However, he thrived on the competition and despite only making nine Premier League starts, scored 10 goals en route to Manchester United's record 20th league title.
In the early stages of David Moyes' tenure, Hernandez once again found himself somewhat a peripheral member at Old Trafford but has proved time and time again, that he can deliver the goods when called upon.
Strengths: Has great vision and anticipation in the box, while his decision-making is consistently impressive; he is also great in the air and boasts plenty of pace on the ground.
Weaknesses: Not the most physically imposing of players, though he has shown he can make up for it with his other attributes.
Career high: After an impeccable debut season with United, he was top scorer at the 2011 CONCACAF Gold Cup and was named MVP in the final as Mexico beat USA to win the tournament.
Career low: Chicharito was ready to play in the Under-17 World Cup in Peru 2005, but an injury sidelined him from the team that ultimately won the championship.
Style: A natural poacher, but also a forward who always works for the rest of the team, refusing to simply sit in the box and wait for assists.
Quotes: "There is no doubt that Hernandez is a promising player. He is excellent, I have seen some games of his on television and he is a fantastic footballer," High praise from one of the greatest of all time, Pele, in May 2011.
Trivia: Chicharito scored the last goal of the Sir Alex Ferguson era; in the 5-5 draw with West Brom in May 2013.