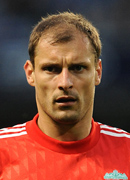 Milan Jovanovic
Squad No: 11
Age: 33
Birth Date: Apr 18, 1981
Birth Place: Bajina Basta
Height: 1.83m
Weight: 73 kg
MILAN JOVANOVIC
A star of the Belgian league, Jovanovic also has pedigree at international level with Serbia and his ability play as a striker or a winger makes him a useful squad player to have.
He began his footballing life at FK Vojvodina during the 1999-00 season and spent most of his early career at Shakhtar Donetsk and Lokomotiv Moscow, before arriving at Standard Liege in 2006.
Making a real name for himself in Belgium, he won two titles and two Super Cups before he attracted the attention of Real Madrid, who offered him a one-year deal. However, he rejected the offer and eventually chose to sign for Liverpool before impressing at the 2010 World Cup - scoring against Germany in the groups stages.
Strengths: Free-kicks are a speciality and his pace and strength in the box are complimented by his excellent positioning.
Weaknesses: Has a bit of a short fuse and can make rash decisions. His open and honest interview style can get him into trouble.
Career high: His stint in Belgium where he played for Standard Liege - making 116 league appearances and scoring 52 goals.
Career low: Going out in the group stages of the 2010 World Cup.
Style: Quick, powerful, clever, a potent attacking threat.
Quotes: "I think 99% of people I spoke to told me they did not understand why I said no to Real Madrid. But maybe I am special. I thought if I went it would be as an ordinary player, but that, if I stayed, I would be where I felt good, where I was a star in Belgium.'' Milan Jovanovic, July 2010.
Trivia: He is nicknamed "The Snake" for his fast movement.