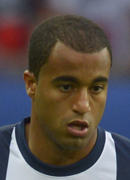 Lucas Moura
Full Name: Lucas Moura da Silva
Squad No: 7
Position: Midfielder
Age: 20
Birth Date: Aug 13, 1992
Birth Place: Sao Paulo, Brazil
Height: 5' 8'' (1.73m)
Weight: 66 kg
LUCAS MOURA
Brazil has always been known for bringing through excellent young players and, in Lucas, they have another starlet ready to step into the shoes of the greats.
Playing in the youth teams of Brazilian sides Juventus and Corinthians, he joined Sao Paulo in 2005 and started to work his way through the ranks before making waves at the 2010 Copinha - an Under-18 tournament before the Brazilian season - where he helped his side to the title.
Promoted to the first-team, Lucas slowly cemented his place in the side and by the end of his first season he had landed 25 appearances and scored four goals, while his performances had seen him lauded as the next big thing.
He was called up to the Brazil squad for the 2011 South American Under-20 tournament and impressed on the way to the title, soon earning a senior-team bow on March 3, 2011 in a friendly against Scotland.
With his place in Brazil's midfield secured, his displays for his club continued to attract the attention of Europe's elite and Chelsea, Manchester United and Inter Milan all tried to sign him before PSG made an offer of €43 million to bring him to France.
Strengths: His decision-making is impressive, while tactically, he is also very intelligent, and understands the game well. An excellent technical midfielder.
Weaknesses: Can get frustrated and his temperament can be called into question.
Career high: He starred in the 2011 South American Under-20 tournament and netted a hat-trick in the final against Uruguay.
Career low: A number of high-profile clashes with club coach Emerson Leao saw his form drop in the early part of 2012.
Style: Technical, confident, classy, a fine attacking midfielder.
Quotes: "We need to appreciate this kid. He will be, no doubt about it, the star of the decade for this club; just like Kaka was in the 2000s and Denilson in the 1990s." Sao Paulo goalkeeping legend Rogerio Ceni, 2012.
Trivia: Lucas revealed that it was the influence of Paris chief Leonardo who persuaded him to reject a move to Manchester United.