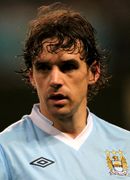 Owen Hargreaves
Squad No: 23
Age: 33
Birth Date: Jan 20, 1981
Birth Place: Calgary, Canada
Height: 5' 11" (1.80m)
Weight: 167 lbs (75.6 kg)
OWEN HARGREAVES
Hargreaves moved to Old Trafford in the summer of 2007, and though his first few months at the club were dogged by injury he soon blossomed into a vital player, helping United to a Premier League and Champions League double in his debut season. Unfortunately, the injury problems returned and his career has ground to a virtual standstill over a period of two years. And at the end of the 2010-11 season, he parted company with United. He was, though, to be handed a lifeline by an unlikely source.
Born in Canada, Hargreaves signed for Bayern Munich at 16 while impressing for his native Calgary. He rose through the ranks at Bayern and had come of age at the end of the 2000-01season when helping his club to the Champions League title and standing in for Stefan Effenberg in the semi-final.
As his father was from Bolton, he chose to represent England at international level and made his debut in the 5-1 annihilation of Germany in 2001, earning a place in Sven Goran Eriksson's World Cup squad .He also played in Euro 2004 but was confined to his by-then regular position of perennial substitute before being selected for the 2006 World Cup - becoming the revelation of the tournament for England, though his team-mates flopped badly around him.
By the summer of 2006, he was a player in demand and Sir Alex Ferguson hoped to add him to United's midfield to fill the void left by Roy Keane. But Bayern played hardball for a player who had won four Bundesliga titles and three German cups in his seven seasons in Bavaria. It became a protracted saga that only ended when United paid the £17 million that Bayern had asked in the first place. Hargreaves signed a four-year deal at Old Trafford and got the chance to achieve his ambition of playing alongside his England colleagues in the Premier League.
He made his United debut in a 1-0 defeat to Manchester City, but featured only four times before November due to niggling injuries. With controlled and intelligent displays, and a danger from set plays, when at full fitness he has proven to be a real asset, offering balance in United's midfield.
But the midfielder has continued to be hampered by injuries, specifically a recurring patellar tendinitis problem.Virtually missing for two seasons, Hargreaves underwent knee surgery to save his career and continued with his rehabilitation in the United States before returning to United in September 2009. He played 30 seconds against Sunderland in May 2010 - his first appearance since September 2008.
The cameo proved false hope for Hargreaves though as he missed the beginning of the following season. He was, however, deemed fit enough to start against Wolves in November 2010 only to last just five minutes before sustaining hamstring woe. He did not have his contract renewed in the summer.
However, interest in Hargreaves proved high, as the player looked to provide evidence of his fitness with a number of videos of the midfielder running, stetching and looking agile. And, as the 2011 summer transfer window crept near, Manchester City emerged as shock suitors for his signature, eventually landing him on a free transfer.
Strengths: Gritty and hard-working, the Canada-born midfielder is a solid defensive midfielder who works tirelessly to win the ball and provide his more flamboyant team-mates with possession.
Weaknesses: Injuries and fitness problems have stalled Haregreaves' career.
Career high: Winning the Champions League as a 20-year-old as Bayern Munich overcame Valencia on penalties in the 2001 final at the San Siro. He helped to keep a fearsome Los Che midfield of Rubén Baraja, Gaizka Mendieta, Kily González and Pablo Aimar at bay.
Career low: Missing 113 matches in 20 months for club and country after a double knee operation in 2008.
Style: Athletic, disciplined, precise; Haregreaves has been a key player in every team he has ever represented.
Quotes: "He's England's Makelele. Like Maka he breaks the play up brilliantly." Former England captain John Terry hails Haregreaves' battling qualities.
Trivia: Hargreaves is one of only two English players to have won a Champions League medal with a non-English club - the other player is Steve McManaman who achieved the same feat twice with Real Madrid.