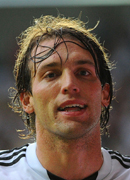 Michu
Full Name: Miguel Perez Cuesta
Squad No: 9
Position: Forward
Age: 28
Birth Date: Mar 21, 1986
Birth Place: Oviedo, Spain
Height: 1.91m
Weight: 76 kg
2013/14 English Premier League
| GAMES | GOALS | ASSISTS | SHOTS |
| --- | --- | --- | --- |
| 17 | 2 | 2 | 42 |
MICHU
A virtual unknown in England when he arrived in the Premier League with Swansea for the start of 2012-13, Michu - a nickname - quickly made himself one of the best strikers around and attracted the attention of Arsenal and Atletico Madrid.
As a youth, he began his career with local club Real Oviedo in the lower leagues but was not assured of a future in the game and enrolled on a four-year degree at university studying business administration. After 12 months, he dropped out to pursue his footballing career and joined Celta Vigo - where he began in the B side.
In 2010, Oviedo's arch rivals Sporting Gijon offered him a lucrative long-term deal, but he turned them down in a show of loyalty to his former club. He netted 12 goals in his final two seasons with Celta. However, Michu missed from the spot in a penalty shoot-out as the club failed to seal promotion via the play-offs, and he was released on a free in the summer of 2011 to be snapped up by Rayo.
Spending only one season at Rayo, he scored more goals in La Liga (15) than any other midfielder and helped them to survive relegation on the final day of the season. If they had gone down, he would have been available on a free transfer again, but Swansea took note of his skills and paid a paltry £2 million to bring him to the Premier League.
Immediately settling to life in the UK, Michu topped the goalscoring charts of the Premier League going into 2013 along with Manchester United's Robin van Persie as he netted 13 in 19 games.
Strengths: His control and power up front get him the space he needs, but it is his cool head in front of goal that has won him admirers.
Weaknesses: Not the best in the air, he could be more predatory in the box when playing as a lone striker. Has a tendency to drift out of games at times.
Career high: The 2012-13 season saw him explode onto the scene in England and top the goalscoring charts.
Career low: In June 2011, Michu missed a crucial penalty during a shoot-out for Celta in the promotion play-off against Granada and was released at the end of the season.
Style: Elegant, confident, strong, a classy striker with a fine touch.
Quote: "I would never expect a new player to come in and score so many goals, but I can't really say what expectation I had for Michu. What he is doing in terms of goals is incredible, especially when you think he's never been a number nine. He's always been a defensive midfielder coming from deeper." Swansea manager Michael Laudrup, January 2013.
Trivia: In November 2012, Michu bought shares in former club Real Oviedo as they struggled to raise €2 million to stay afloat in the third division. "It's my local club, a club I love, so I hope it will be enough," he said.