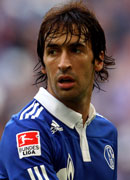 Raúl
Full Name: Raul Gonzalez
Squad No: 7
Position: Forward
Age: 36
Birth Date: Jun 27, 1977
Birth Place: Madrid, Spain
Height: 5' 10'' (1.78m)
Weight: 68 kg
RAÚL
Something of a national institution in Spanish football, Raul can do no wrong in the eyes of certain sections of the media, even when he chose to end his 18-year association with Real Madrid and move to Schalke on a free transfer.
A one-club man until 2010, he notched up 550 appearances for Real after making his debut for the first-team in 1994. There is no doubting his scoring record as he was Spain's all-time record goal scorer at international level until the arrival of David Villa, while he holds the record of all-time top La Liga scorer for Real Madrid with 227, a record previously held by Alfredo di Stefano. He is also the Champions League's record scorer.
At the age of 33, he chose to continue his career in Germany and was released on a free transfer. He collected the Royal Order Gold Medal for Sports Merit in 2006 and is a true Madrid legend.
Strengths: Extremely clever, Raul's intelligence sees him get away from his marker and create space well. His finishing touch in the box is second to none.
Weaknesses: Lacks pace and strength, and age is catching up with him to make these issues even more apparent.
Career high: Raul collected his third Champions League trophy in 2001-02 having been named the third best player in the world.
Career low: Missing out on selection for Euro 2008, which Spain went on to win, ended his international career.
Style: Quick, clever, creative, a potent poacher in front of goal.
Quotes: ''Raul in the Champions League is one of the hardest I have to play against. He doesn't play against you, he plays away from you. He asks you to come and mark him or let him hurt you with his passing.'' Rio Ferdinand on Raul in 2009.
Trivia: Jorge Valdano tabbed Raul for first team duty when he was only 17, thus becoming the youngest player ever to wear a Real Madrid shirt.