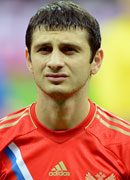 Alan Dzagoev
Squad No: 10
Position: Midfielder
Age: 23
Birth Date: Jun 17, 1990
Birth Place: Beslan, Russia
Height: 1.78m
Weight: 154 kg
2013/14 Russian Premier League
| GAMES | GOALS | ASSISTS | SHOTS |
| --- | --- | --- | --- |
| 8 | 0 | 0 | 0 |
ALAN DZAGOEV
Dzagoev has been tipped to become the next big star of the Russian game as his performances for CSKA Moscow have alerted a number of top clubs.
Beginning his career with the Terek Beslan youth team, he moved to Vladikavkaz in 2000 and began to play for Yunost before becoming a Konoplyov academy player within five years.
Starting life in the Russian Second Division with Krylia Sovetov-SOK, he made his professional debut in April 2006 and, with a style of play similar to that of Frank Lampard, he impressed and signed for CSKA Moscow before the start of the 2008 season. By the end of the campaign he had landed the Best Young Player of the Year award.
Showcasing his skills he quickly became a vital part of the CSKA side and soon made his bow for Russia after being called up to the 2010 World Cup squad. His first international goal came in the Euro 2012 Qualifier against the Republic of Ireland a few months later and it surely won't be the last.
Strengths: Technically very skilful, but also has a great work ethic and is often seen demanding more from his team-mates.
Weaknesses: Can drift out of games and his concentration can waiver.
Career high: Scoring against Man Utd in the Champions League in 2009, which finished 3-3.
Career low: He labelled his international debut "a flop" after becoming the youngest outfield player ever to compete for Russia at the 2010 World Cup against Germany.
Style: Clever, quick, technical, a fine creative playmaker.
Quotes: "Alan is a really clever player with the ability to make a killer pass and stretch the play." Guus Hiddink, 2009.
Trivia: As an Ossetian, Dzagoev is descended from the Alans, a Sarmatian tribe of around 200 AD. Which may explain his first name.