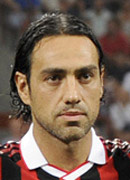 Alessandro Nesta
Squad No: 14
Position: Defender
Age: 38
Birth Date: Mar 19, 1976
Birth Place: Rome, Italy
Height: 1.87m
Weight: 84 kg
ALESSANDRO NESTA
Nesta developed into one of the most powerful centre-backs in the world game before leaving AC Milan for a new challenge in the MLS with Montreal Impact.
A product of the Lazio youth team set-up, he rose up the ranks and assumed the team captaincy in 1997. Helping the side to win the 1998 Coppa Italia, he was also key in delivering the UEFA Cup Winners' Cup and European Super Cup in 1999, and a rare Scudetto and Coppa Italia double in the 1999-00 season, in addition to two Italian Super Cups.
Financial woes forced Lazio to sell and Nesta was transferred to Milan for €30.9 million where he became the rock of their defence. Landing the Champions League, Super Cup and Coppa Italia in 2003 he also picked up two Serie A titles in 2004 and 2011, and added another Champions League in 2007.
Having began his international career in 1996, the 2006 World Cup win proved a high point before his decline saw him play less at Milan and he eventually left the club in 2012 for a new challenge in the MLS.
Strengths: Vision and positional sense as well as power that allows him to dominate his opponents.
Weaknesses: Now that he is getting on in age, pace is a problem while he also has had injury issues.
Career high: He was named Serie A's defender for four straight years beginning in 2000, but the highlight of his career was the World Cup win of 2006.
Career low: Injury problems in 2008-09 saw him play just one game all season.
Style: Powerful, strong, a classy defender.
Quotes: "There's no way that I could sit on the bench and wait for my turn. If I don't feel that I am important, I'd rather stay at home. Out of respect for the club and also for myself, I prefer to leave and try something new." Nesta on leaving Milan in 2012.
Trivia: Nesta first came to the attention of fans for being involved in a training ground accident that broke teammate Paul Gascoigne's leg.