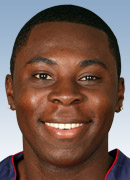 Freddy Adu
Squad No: 25
Position: Midfielder
Age: 24
Birth Date: Jun 2, 1989
Birth Place: Tema, Ghana
Height: 5' 8'' (1.73m)
Weight: 66 kg
FREDDY ADU
Just call him Frequent Flyer Adu. His latest stop has come with Belenenses in Portugal, on loan from Monaco in France's Ligue 1. Only 20, Adu still hasn't lived up to the hype, fair or unfair. He needs to step up his game in Portugal if he wants to experience World Cup 2010.
The fairy tale for Adu began in 2004: from Ghana to Rockville, Md., to the MLS, with lots of lucrative endorsements included. Adu, who arrived in the U.S. in 1998 when his mom won a green-card lottery, became the youngest American athlete in over 100 years to sign a major league pro contract in any team sport at age 14 when D.C. United plucked him first overall in the 2004 MLS SuperDraft.
Adu made his debut for United during the first game of the '04 season, as a substitute in the second half against San Jose. Just two weeks later, Adu scored his first pro goal in a 3-2 loss to New York , making him the youngest player in MLS history to achieve the feat.
He played in 30 games as a rookie and finished with five goals and three assists. Adu added three playoff appearances in four games in United's run to the MLS Cup. He played two more years in the nation's capital, finally cracking the starting lineup in '06. By that time, several European clubs had begun to show interesting in a developing Adu.
He trained for two weeks in early '06 with Manchester United. The end of that year saw D.C. United trade Adu and keeper Nick Rimando to Real Salt Lake. In return, United received future considerations, a major allocation and keeper Jay Nolly.
However, Adu's stay in Salt Lake was a short one, with his next stop Portugal after he impressed in the 2007 U-20 World Cup.
In July 2007, Benfica earned Adu's rights from MLS with a $2 million transfer fee. He scored two goals in 11 appearances for Benfica and made his UEFA Champions League debut against FC Copenhagen in August.
Next stop? In the summer of '08, Adu entered a year-long loan deal with AS Monaco in France -- with an option to join the team permanently. He made nine appearances off the bench for Monaco.
Then it was back to Portugal: Adu is on loan with Belenenses for the 2009-10 season. In early October, six games into the regular season, Adu made his league debut for Belenenses in the 65th minute against Sporting Lisbon. The game ended in a 0-0 tie.
Adu became the youngest player to earn a cap with the U.S. senior team at 16 years, 234 days, when he replaced an injured Eddie Johnson against Canada on Jan. 22, 2006, in San Diego. He made his second appearance for the U.S. against Switzerland on Oct. 17 of the following year in Basel.
Adu made nine appearances, including four starts for the U.S. last year. His first goal came in a 2-0 win over Guatemala in November. However, Adu has become peripheral to the U.S. squad, and it appears he's a long shot for South Africa.
Strengths: His touches can be magical and he has great technical skill, especially by U.S. standards.
Weaknesses: Inconsistent and easily muscled off the ball due to his size.
Career high: Signing a pro contract with D.C. United at the age of 14.
Career low: It could be remaining stateside for next summer's party in South Africa.
Style: Has plenty of style. Good technical skills, flair and, at his best, sharp on the attack.
Quote: "I've learned when you do get that chance, you've got to go out and get the job done." -- on making the most of his opportunities in Europe, Associated Press, July 2009.
Trivia: Adu's main squeeze was once pop star JoJo.
Soccernet says: Unless Adu enjoys a blow-up season in Portugal he likely will have to wait another four years to play in his first World Cup. Considering the hype surrounding him since day one, that would be disappointing.