Messi signs 2-year contract extension
February 7, 2013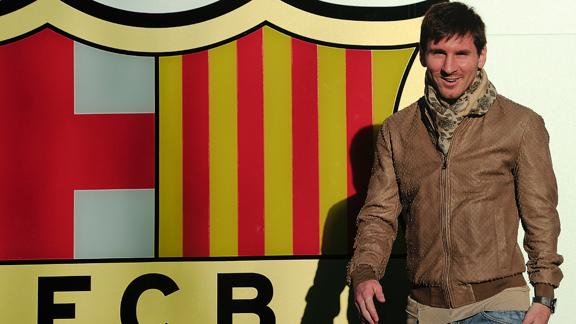 Messi's mega millions
Lionel Messi has officially signed his two-year contract extension with Barcelona.
The Argentina superstar put pen to paper on his new deal at the Nou Camp on Thursday afternoon and is now tied to the Catalan giants until June 30, 2018.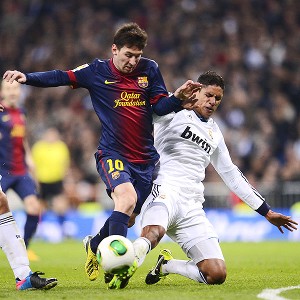 PIERRE-PHILIPPE MARCOU/AFP/Getty ImagesBarcelona, continuing to lock up its first-team stars, re-upped World Player of the Year Lionel Messi to a two-year contract extension.
"I'm very happy at Barcelona, I have always said so. It's a great day," Messi said. "I don't know how I will be when I reach 31. I just go forward day by day and try to enjoy playing football here."
The 25-year-old forward joined Barcelona when he was 13 and debuted with the first team three years later. He has gone on to become Barcelona's career scoring leader and won four FIFA Player of the Year awards. Since his league debut in October 2004, Barcelona has won 19 trophies for the Spanish League (five), Champions League (three), Copa del Rey (two), FIFA Club World Cup (two), Spanish Super Cup (five) and European Super Cup (two).
His contract with Barcelona wasn't due to expire until June 30, 2016. Messi also said he wouldn't consider playing for any other European club.
"As I said earlier, at the level of Europe, I have no plans to play on any other team," he said. "That said, I would not rule out finishing my career in Argentina."
Messi follows in the footsteps of fellow club stalwarts Xavi and Carles Puyol, both of whom signed their extensions last month. Puyol and Xavi will extend theirs to June 2016.
The Catalans announced in December that Messi, along with Xavi and Puyol, had agreed to extend their contracts.
Messi said that he wanted to play for Barcelona until possibly ending his career back in his native Argentina.
"I have said before that as far as Europe goes I would like to end my career at Barcelona," he said. "I don't think about playing for any other team on the continent. That said, I don't rule out ending my playing career in Argentina."
Barcelona defender Jordi Alba says Messi's renewal "is great news for Barcelona."
Information from Press Association and The Associated Press was used in this report.