Timmy Chandler out until April
February 8, 2014
Nurnberg wingback Timothy Chandler suffered a torn meniscus in his left knee on Saturday that will keep the United States international out until April.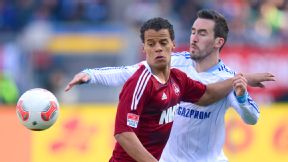 Micha Will/Getty ImagesTimmy Chandler's World cup hopes took a blow when he suffered a knee injury on Saturday.
Chandler came off 10 minutes into Nurnberg's loss to Bayern Munich in the Bundesliga.
The club confirmed after the game that Chandler will have surgery in Augsburg on Monday and be out of action for eight to ten weeks.
Nurnberg also lost Daniel Ginczek to a knee injury later in the game. Ginczek will also have surgery on Monday and will miss about six months.
"We didn't just lose three points today, but also two players," manager Gertjan Verbeek said. "It's a big price to pay in a derby like that."
The injury will dent Chandler's hopes of making the U.S. World Cup squad this summer. Jurgen Klinsmann must name his provisional roster by May 13.