Fernandinho eager to impress Scolari
February 3, 2014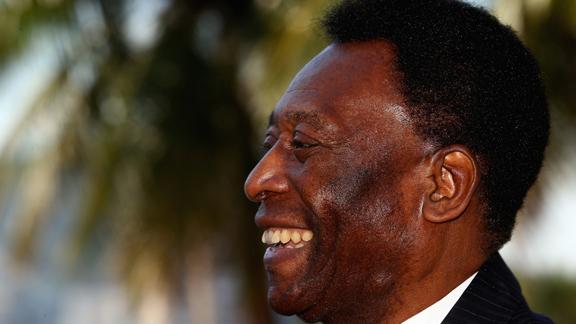 Pele looking forward to 2014 World Cup
Fernandinho hopes he can press his case for a place in Brazil's World Cup squad by impressing in Manchester City's Premier League title charge.
PA PhotosFernandinho has become a key part of City's midfield.
• Vickery: Fabio must find footing
The midfielder has not been capped by his country for almost two years but could face four men who play a part in Brazil manager Luiz Felipe Scolari's plans -- the Chelsea quartet of David Luiz, Ramires, Oscar and Willian -- on Monday night, and he is sure the 65-year-old will have reason to tune in.
"I hope Scolari will be watching," Fernandinho told British national newspapers. "The newspapers in Brazil say that he watched the last game against Spurs [City's 5-1 win on Wednesday] on the television, so I hope he was impressed.
"The Premier League is considered the best league in the world. If you are a manager and you have so many players in one game -- you must be watching. You must be."
Fernandinho has only won five caps for Brazil and moved from Shakhtar Donetsk to City last summer partly because of his ambition to go to the World Cup, which will be held in his homeland.
"Getting to the World Cup is a big dream for me, but there has been nothing from him or the Brazil FA yet," he added.
"In February, they do the list for the next international game against South Africa on March 5 and I keep hoping I will get the phone call. I need to keep working here and believe it can happen."
Scolari has picked Ramires, Liverpool's Lucas Leiva, Tottenham's Paulinho, Wolfsburg's Luiz Gustavo and Internazionale's Hernanes ahead of Fernandinho in the centre of midfield.