Vincent Kompany hails City form
January 30, 2014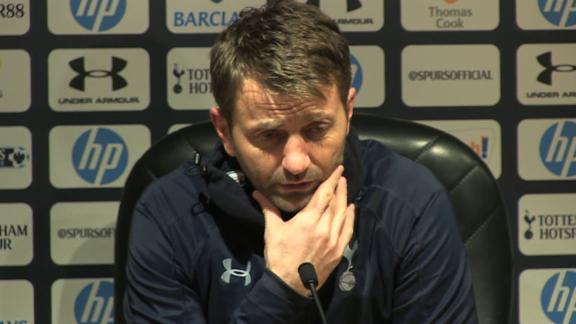 Sherwood: City will be champions
Vincent Kompany says the current Manchester City side is the finest he has played in.
• Mooney: Pitch perfect
• Curtis: Counting goals as City romp
Kompany, 27, captained Roberto Mancini's title-winning City team of 2012 and helped them lift the FA Cup in 2011, but he feels the manner of the club's victories this season makes them extra special.
The Belgium international scored City's final goal in Wednesday's 5-1 win over Tottenham, taking their total to 115 goals in all competitions, meaning they have now won 18 of their last 20 games.
Manuel Pellegrini's men have made a habit of hammering top teams this season, with Tottenham beaten 6-0 and 5-1, Arsenal 6-3 and Manchester United 4-1.
And Kompany, who joined from Hamburg in 2008, is convinced the current lineup is the strongest side in his six years at the Etihad Stadium, telling City's official website: "It is the best team in the best form. This kind of performance gives you such a lift. It is massive for us.
"Especially in the last few months we have been relentless. It is such a great feeling that no matter who you play, where you play you just want to win and it's not just about winning, you want to make a statement. It is a good time to be part of this club."
However, Kompany cautioned against getting too carried away, warning that City, who are trying to win four trophies this term, have not secured anything yet.
He added: "It means nothing at the moment, absolutely nothing until the silverware [arrives]. Everything we do now is important but it is only a foundation for everything we want to achieve so I look past it."
Sergio Aguero scored City's first goal at White Hart Lane, his 26th in his last 25 games, before limping off with a hamstring injury.
Kompany said: "He is a massive player for us and at moments it was just frightening how good he was. You need those players, especially in the games we have coming up."
But the blow of losing the Argentina international was tempered when summer signing Stevan Jovetic came on and scored his first Premier League goal.
And Kompany added: "Ultimately we have recovered an incredible player as well, in Jovetic. Not much has been said about him because he has been injured but you could see when he was on the pitch today he had a real added value.
"We had to deal already with the situation when Sergio was out for a month so we seem to step up whenever we need to deal with a situation."