Moyes: Mata signing just the beginning
January 27, 2014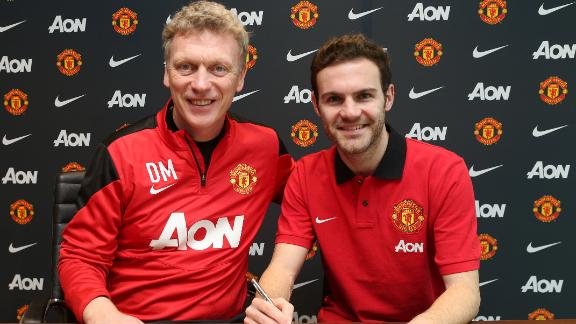 United complete club record Mata signing
David Moyes said he had not believed Manchester United would manage to complete the signing of Juan Mata, especially in the January transfer window, but vowed that the Spaniard would be the first of several big-name arrivals.
• Brewin: What next for United?
• Darke: United making right move
• Payne: Keep on spending
• Marcotti: Unpacking the deal
Mata moved from Chelsea for 37.1 million pounds and manager Moyes, who broke the club's transfer record to sign the Spain international, revealed that United had spent a month or two working on the deal.
He said: "I am thrilled. I got wind a month or two ago it could be a possibility. I never believed we would pull it off."
The Scot said he had been cautious about United's prospects in the winter transfer window, adding that he felt vice-chairman Ed Woodward, who was criticised after the club's failed attempts to strengthen last summer, deserved credit for securing Mata's signature.
He added: "I have been saying that I didn't think we would get a chance to do much business in January.
"I didn't think the players we would be interested in would be available, but when we got the sniff that Juan would be available we went after it right away -- and congratulations to the club and Ed Woodward for getting the deal done. I am delighted to have him here."
Moyes made only one major signing in the summer, bringing in Marouane Fellaini from his former club Everton, but vowed that United would be big spenders from now on as they targeted more blue-chip players.
He added: "There will be more players like Juan in the future. I have no doubt about that."
Mata has said he believes his new team can still win the Premier League title, despite what has so far been a difficult first season under Moyes.