Gonzalo Higuain happy at Napoli
January 3, 2014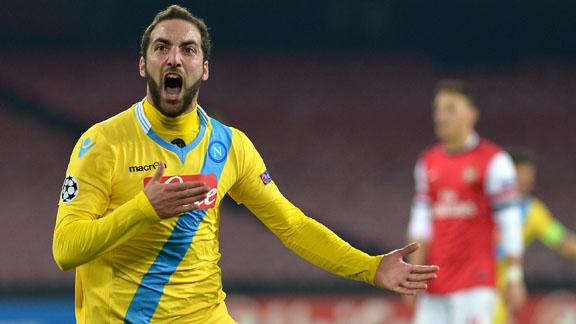 ESPN FC: Best and worst transfers of the year
Gonzalo Higuain has said he has no intention of turning his back on Napoli only five months after leaving Real Madrid.
• Worrall: Chelsea window targets
• Napoli 'keen to sign Mata'
The Daily Telegraph reported on Friday that Chelsea were readying a second bid for Higuain, 26, after seeing an initial 50 million pound offer rejected.
However, the Argentina international -- who had limited playing time under Jose Mourinho when the Blues boss was in charge at the Bernabeu -- has reaffirmed his affection for Napoli.
"I've never regretted my decision to come here," he told Argentine newspaper Ole. "President [Aurelio] De Laurentiis convinced me immediately, with a great coach like Rafa Benitez and with the club's project.
"All this motivates me to help the team grow and to write history. We know it's difficult, but it's a beautiful challenge. I think this experience will help me to improve as a player, and this is also something which influenced my decision to come here, to a new league with new challenges."
Higuain said he had embraced life in Naples, adding: "It's an intense city and it's incredible. Football comes first, then everything else follows.
"For me, as someone who loves this sport, it's a beautiful place to be because the people live for this, in good and in bad. The fans are passionate about football to the extreme, and that is what I love. It's a bit like Argentina."