Sherwood heaps praise on Adebayor
January 1, 2014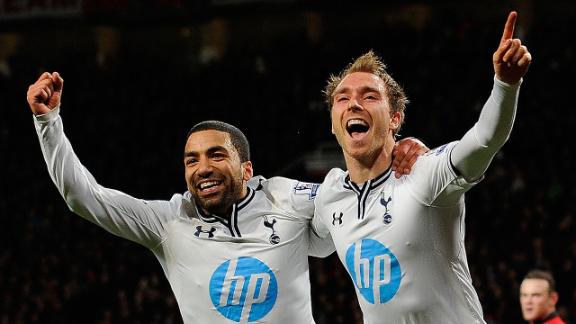 Tottenham win at Man United
Tottenham head coach Tim Sherwood described Emmanuel Adebayor "almost unstoppable" and said he is one of the best strikers in the Premier League after he helped Spurs win 2-1 against Manchester United.
GettyImagesEmmanuel Adebayor heads Spurs into the lead at Man United.
• Brewin: Turnaround continues
• Okwonga: Tale of two flanks
Adebayor scored the opening goal as Tottenham made it 10 points out of a possible 12 under Sherwood, who was given an 18-month contract when he was appointed on Dec. 23.
Former manager Andre Villas-Boas did not give Adebayor a single start this season but Sherwood has recalled him and believes that a player with a reputation for inconsistency will maintain his current fine form.
He said: "We know he's a top striker, he's one of best in the league and when he performs as he is at the moment he's almost unstoppable. I have to think positively and I have no reason to believe he won't keep it going. He's a top striker and let's hope he can keep it going. He's massively important to us."
Adebayor was stretchered off in the second half, making him a doubt for Tottenham's Saturday FA Cup tie against his former club Arsenal, and Sherwood admitted he does not know what is wrong with him. He added: "He seems happy in himself and wants to play in every minute, apart from when he's come off on a stretcher. He's got ice on every part of his body so we're not sure which [part] is hurting him more. We'll have to assess him."
Sherwood has changed Tottenham's tactics, picking two strikers and adopting a different approach to the more cautious Villas-Boas. But he said: "No slight on what was here previously. I maintain Andre did a good job at this club. The points suggest that he did and the league position suggests that. But there are different ways to win a football match.
"I always like to let the players who can affect the opposition play in the opposition half and I think we did that. Just let them have their head and go out there and enjoy themselves. We've all played in the street and sometimes you need to take it back to that. I think football is sometimes too regimented."
Sherwood praised his injury-hit squad, who were without seven sidelined players, for delivering a series of results in a busy time of the season.
He added: "It's a crippling injury list and these boys are having to go at it in this very tough period on their own really. It's credit to the boys, they have dug in and showed a lot of character."
Striker Jermain Defoe has been linked with a move to Major League Soccer side Toronto FC but Sherwood insisted: "I have heard nothing regarding Jermain. I just want to get him fit and hopefully he can help out this squad."