Pellegrini: Don't question my authority
December 25, 2013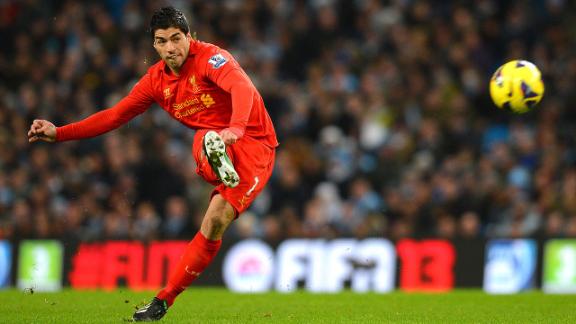 Nicol: Man City vs Liverpool has goals written all over it
Manuel Pellegrini has warned Manchester City players risk being shown the exit if they ever question his authority.
• Curtis: Boxing Day memories
Under Pellegrini, City have earned the reputation as the Premier League entertainers, climbing the ladder with the competition's best attack.
However, that success has not come without its controversy with Pellegrini unafraid to wield the axe should players fail to perform.
And the Chilean said his charges had to accept his decisions -- or confront the harsh consequences.
"It is impossible not to have conflict with players when you are a manager," Pellegrini told The Sun. "But the minute a player questions the manager's authority in the dressing room, that player has to be out of the squad.
"You can't put the manager's charge in jeopardy.
"If you do that, you produce chaos in the squad. It is important the club's hierarchy is set up to support the manager.
"You have to try to convince the player many times to support the manager but, if not -- taking into account economic and sporting matters -- the player who questions the manager has to leave.
"Authority is of the utmost importance. Sometimes I explain and sometimes I do not explain why they are playing or not, but I try to be just.
"Justice is a difficult word because some respond better than others. But I have my criteria."
England international Joe Hart, considered the club's number one goalkeeper at the start of the season, was quickly dropped when errors crept into his game.
However, Pellegrini said he was never concerned about making such difficult decisions.
"I am never affected by that worry," Pellegrini continued. "From the very first day I try to teach the squad my values, which I will not compromise.
"They are: respect for the club, the players, the staff, the fans, belief in a project -- whatever that project might be.
"But the current project requires the maximum amount of belief and sacrifice, and then the third value: performance.
"I try to treat everyone justly, so all of the players are treated exactly the same -- and that means that everyone in the squad accepts the decision I make, whether you play or start on the bench."
And the 60-year-old said finding the right first-team balance in his high quality squad was not as difficult as most people expected.
"It is easier than people think. I've never found it especially difficult," Pellegrini said.
"Firstly, there is a reason they are stars -- because they have a grounding in the game, because they have a work ethic, because they have a technical ability.
"You need that to be a star. From the economic point of view, they all know that their lives are secure. What they are looking for is sporting glory.
"The most important thing is to appeal to their ambition to keep on achieving important things, to try to improve all of them in some way.
"And if you do not know each player individually, it is impossible to form a team from 22 distinct personalities, different languages, different home countries but with one common aim."