Suarez may captain Liverpool
December 13, 2013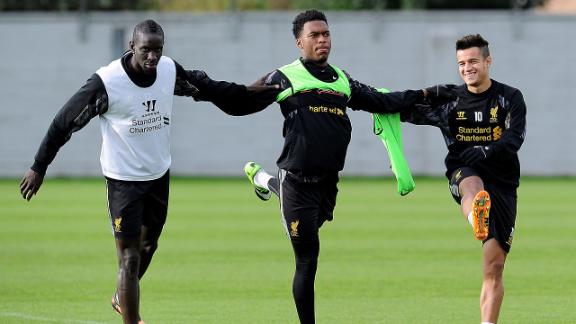 Liverpool limp into White Hart Lane
Luis Suarez's rehabilitation at Liverpool could be completed this Sunday as he is a contender to be named as the stand-in captain for crucial Premier League game against Tottenham at White Hart Lane.
After a summer that saw Suarez use every trick in the book to try and engineer a route out of Anfield, the notion that manager Brendan Rodgers is considering him as a potential skipper in the absence of the injured Steven Gerrard is remarkable.
Yet Rodgers insists he would have no qualms about presenting Suarez with the armband, after confirming as much at his pre-match press conference.
"Would Luis be ready for the captaincy? 150%. Absolutely," said the Liverpool boss.
"We shall see who will be captain. Daniel Agger is fit. He didn't train at the start of the week because he was ill, but he has been training now and he's available for selection.
"You'll just have to wait and see what my decision is at White Hart Lane."
Meanwhile, Rodgers is convinced he has the players at his disposal to win at White Hart Lane on Sunday, despite the absence of skipper Gerrard and striker Daniel Sturridge.
"Sturridge being out is a miss. His stature and his quality we will miss but as a group we will come together and the same goes for Stevie obviously," added Rodgers.
"Still, we've had it here before. Whenever Daniel Sturridge wasn't playing we won games, whenever Luis Suarez wasn't playing we won games.
"It is an opportunity for others to step up to the plate. The focus is on the overall squad and over the course of the next three weeks or so that won't be called into question.
"Luis is in great form at the moment, his quality and energy and robustness is where he comes into his own. He is remarkable and is up for every game so there is no worry there.
"We have enough talent in the squad means we can restructure the team a little bit but we have enough quality."