Juve deny Facebook criticism of UEFA
December 12, 2013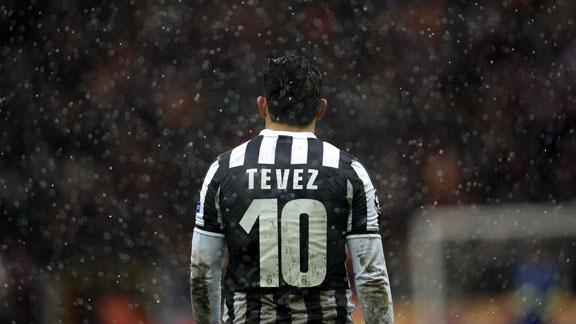 ESPN FC: Old Lady go out
Juventus have distanced themselves from a Facebook page purporting to belong to club president Andrea Agnelli, which had published criticism of UEFA following the Bianconeri's elimination from the Champions League on Wednesday.
• Rothwell: Juve frozen out
• Conte disappointed by European form
Juve were knocked out of the competition following a 1-0 defeat at Galatasaray, which had to be suspended on Tuesday due to the weather and was then played on a pitch that had been severely damaged by the conditions.
In the aftermath, a Facebook page in the name of Agnelli posted criticism of the governing body for allowing the match to go ahead.
The message read: "The game was falsified: thanks, UEFA. The important thing was to play the game, not to play football. It's a disgrace!"
However, in a Twitter post on Wednesday, the Turin club denied those words had been spoken by their president, claiming he "no longer has a Facebook page, publicly or privately."
Il presidente Andrea Agnelli non ha più nessuna pagina Facebook pubblica o privata.

— JuventusFC (@juventusfc) December 11, 2013
Nevertheless, the disappointment at failing to reach the knockout stage of the competition was palpable in the Juve camp.
The game was abandoned after 31 minutes on Tuesday night due to heavy snow and ice, and resumed the following day despite little improvement.
Tuttosport pointed the finger at UEFA president Michel Platini, headlining its coverage: "Merci Michel."
The Turin-based newspaper asked: "How, in spite of the snowfall being widely forecast, could the Turk Telekom Arena, a five-star rated stadium by UEFA, be caught by surprise?
"If the Champions League is meant to be the pinnacle of European football, based on it being a spectacle to watch, why was it even allowed for football to become 'non-football' like it was this afternoon? In addition to postponing the game, UEFA would also have had to postpone the draw, and it seems like they just didn't want to do this."
The Bianconeri will now go into the Europa League draw on Monday as they seek to reach the final, which will be staged in their own Juventus Stadium in May.