Rooney: Shakhtar was 'win at all costs'
December 11, 2013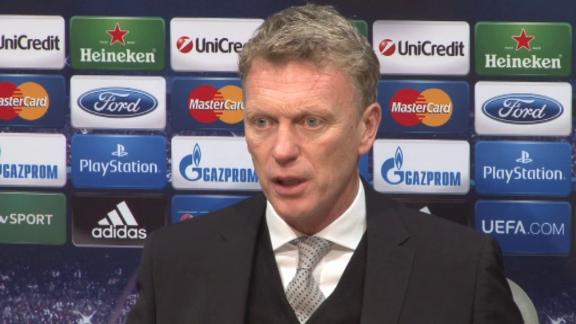 Moyes happy to top group on European debut
Wayne Rooney has admitted Manchester United had to win against Shakhtar Donetsk to halt their slide.
• Brewin: Three things: Man United vs. Shakhtar
• Payne: Phil Jones stops Man United's rot
Phil Jones scored the only goal at Old Trafford on Tuesday as United, who had already qualified for the last 16 of the Champions League, beat the Ukrainian side to ensure they topped their group.
But striker Rooney said the backdrop of successive home Premier League defeats to Everton and Newcastle meant it was imperative David Moyes' men ended their losing run.
He told reporters: "[It was] win at all costs. After the last two games we knew it was vital. We got a good result, and if you'd have said beforehand that we'd win the game after the last two results, we'd have certainly taken that."
Rooney admitted United's performance was not their finest but said the result was all important after their poor run.
He added: "The most important thing was to get back to winning ways and top the group so we've done that. It could have been better at times but thankfully we got the win."
The 28-year-old forward said the challenge for United now is to replicate their impressive form in the Champions League, where they took 14 points from six games, in England, where they languish 13 points behind leaders Arsenal.
Rooney explained: "The campaign has been good this year in Europe so we just have to try and get that consistency in all our games, whether it is Europe or the Premier League. Hopefully we can do that in the upcoming games and get back in a good position."