Zabaleta: City targeted three-goal win
December 11, 2013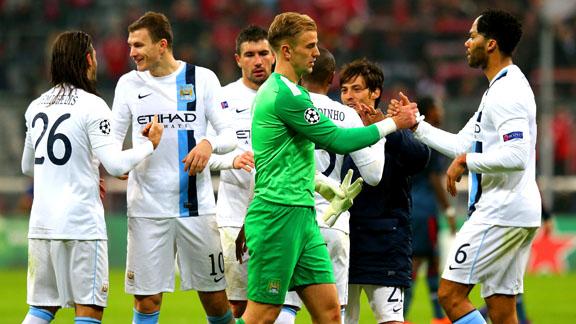 ESPN FC: City fight back
Pablo Zabaleta has joined James Milner in suggesting that Manchester City's players were not told a 4-2 win over Bayern Munich would have resulted in them topping their group and avoiding some of the favourites in the last 16 of the Champions League.
• Curtis: Pride in battle for City
• Schaaf: City win match, Bayern win group
City recorded a famous victory over the European champions on Tuesday night by triumphing 3-2 at the Allianz Arena but manager Manuel Pellegrini made a costly miscalculation.
The Chilean revealed after the game that he thought they needed to win by three clear goals to finish ahead of Bayern in the pool. Instead, a high-scoring victory by a margin of two goals, such as 4-2 or 5-3, would have sufficed.
But Pellegrini, who believed his side needed to strike five times after conceding two early goals, left top scorer Sergio Aguero on the bench even after Milner put his side ahead, before replacing striker Edin Dzeko with midfielder Jack Rodwell.
Zabaleta told City's official website: "Before the game, we talked about trying to win by three goals difference. We knew it was important to do that but at the end it was important also to win and take revenge for the last game we played against Bayern at home."
Milner had told reporters after the match: "We didn't know if 4-2 would be enough or if we would need [to win] 5-2. We thought it needed to be 5-2 to be honest."
Zabaleta, though, was simply delighted with the victory, adding: "When you win against the best team in the world, it is always really important. We showed great spirit. We played really well so I am very proud of the boys. Everyone was fantastic and we deserved it. We did a fantastic job defensively and then we have very good attacking players."
The Argentina international singled out match-winner Milner for praise, saying: "James Milner's goal was a great finish. I am really happy for him because he is a great lad and a great player, always working really hard for the team."
In Germany, Bayern's defeat was greeted by a mixture of surprise and relief in the media.
Bayern had gone into the game on the back of 10 consecutive wins in the Champions League and had not been beaten in any of their previous 39 competitive games -- with their 4-2 defeat to Borussia Dortmund in the German Super Cup regarded as a preseason friendly.
"Only human after all" was the headline in the Munich-based broadsheet Sueddeutsche, which focused on how the European champions threw away a 2-0 lead.
The paper wrote: "It was good news and bad news for Manchester City at 20.57 CET. The good news: They had already survived 12 minutes. The bad news: 78 minutes were still to be played -- and there was an alarming 2-0 gap and the worrying thought that their opponents, FC Bayern, won 7-0 only a couple of days before. [But in the end] they had indeed won in Munich! And this sensation led to another sensation: Bayern had indeed lost."
While the 3-2 defeat was not enough to stop them finishing the group stage as Group D winners, Sueddeutsche described it as a "warning signal for everyone, who has already booked flights to the final in Lisbon."
Der Spiegel -- Germany's biggest news magazine -- used the headline "Bayern defeated: The extra-terrestrials have landed" on its website and led with a quote from Thomas Mueller, who told reporters: "Somehow, the human side in us came through."
Criticising the players for their complacency and coach Pep Guardiola for his approach, Der Spiegel commented: "Obviously they had regarded themselves as beings from a different star... [there was a] mix of pretension and flippancy, paired with unfortunate tactical changes and a defensive line whose fragility was believed to have been resolved."
Bayern, Der Spiegel summed up, have "lost their infallible status, at least a little."
The Munich-based Abendzeitung was rather surprised, saying, "Look at this, FC Bayern can still lose," and used the same "only humans after all" headline as Sueddeutsche Zeitung.
Bild summed it up with the headline: "Guardiola finally caught out!"
Germany's biggest tabloid added: "When looking at the result of Bayern's Champions League game, don't think you have spotted a typo. Bild can reassure you: You are right, Bayern have really lost."