Benitez: Napoli to attack Arsenal
December 10, 2013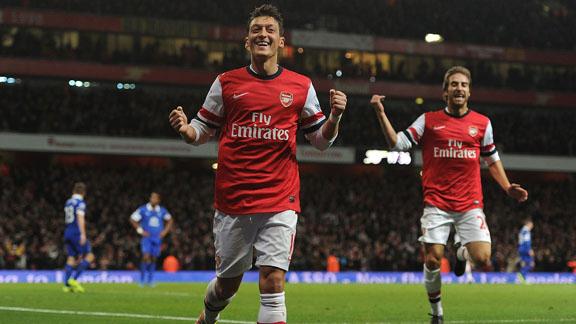 ESPN FC: Gunner glory on tap?
Napoli intend to take the game to Arsenal on Wednesday in a bid to book their place in the last 16 of the Champions League.
GettyImagesBenitez could see his side in playing in the Europa League.
• Cross: Positivity key for Arsenal
A victory by three goals or more is what Napoli require to be certain of seeing their name in Friday's draw, although a win by a smaller margin or even a draw would still be enough, should Borussia Dortmund obtain an inferior result in their game at Marseille.
While coach Rafa Benitez will be informed about proceedings at the Stade Velodrome, that will not alter his side's game plan.
"The message to the players will always be to attack," the Spaniard said at a news conference in Castelvolturno. "We've got to aim to get the first goal, and then the second goal and so on. If we have to score three, then we've got to score three. If they score then what happens? We've got to get four, and we'll try.
"We've got faith in ourselves. We've got to attack, there are no two ways about it. They're a very strong side, but we've still got to attack. We've got nothing to lose. We think it's possible and we'll try to do it."
Napoli are in the unusual position of potentially being eliminated from the competition with 12 points, and if that is the case, Benitez says he would not have any complaints. "We were unlucky to be in such a strong group with Dortmund and Arsenal," he said. "But it's been a positive Champions League campaign for us all the same."
That sentiment was shared by Macedonian forward Goran Pandev, who says they can already be proud of what they have achieved in Europe this season, even if they may end up in the Europa League. "We've got nine points and we're not through yet, which is very strange," he said.
"We're focused on getting the three points, even if we're not sure it will be enough. The coach has told us not to be in any rush, but to play our game, and that is what we're focusing on. Arsenal are playing a great season and it's going to be a hard game, but tomorrow it's up to us to beat them."