Demichelis: City out for revenge
December 9, 2013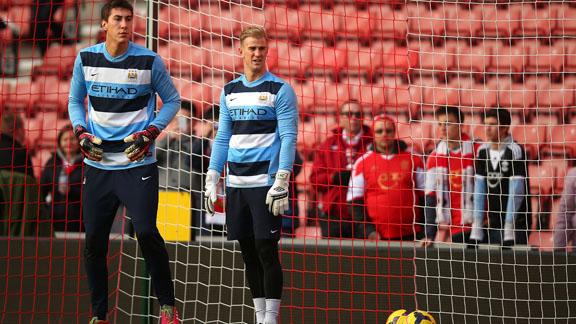 ESPN FC: Homesick City blues
Manchester City defender Martin Demichelis admitted the club are out for revenge when they face German juggernauts Bayern Munich in the Champions League on Tuesday.
• Mooney: Tempo key to City's road woes
City were outclassed by Bayern 3-1 in their first encounter this season as the European giants stamped their authority on Group D.
But heading into the Allianz Arena for the return showdown, Demichelis said City were looking to avenge their dismal showing on matchday two.
"Yes," the Argentine answered when asked if the club was seeking revenge. "A lot can happen in football. Its 11 vs 11 tomorrow.
"It's very difficult to win here but we have to try to do that.
"It's very difficult to say what Bayern's weak points are but we have to play tomorrow with real fire in our stomachs.
"We're playing a great team and it's great preparation for us."
Demichelis added that a victory against the undefeated Bayern side would continue the club's progress under Manuel Pellegrini.
"I think now we're on a really good path," Demichelis said.
"We're growing with every game and every week and we have a great future ahead of us with Manuel."
The game will offer extra significance for Demichelis as the defender returns to one of his former haunts.
The 32-year-old made over a 170 appearances for the Bavarian giants before making the switch to the then Pellegrini-led Malaga in 2011.
"It (Tuesday's match) will be a very important occasion for me," Demichelis said. "I played here for seven and a half years and it was great playing here for Bayern.
"I experienced a lot here, and tomorrow and even today are two very emotional days for me in my career and in my life."
Information from the Press Association was used in this report.