Pellegrini: Aguero better than Suarez
December 6, 2013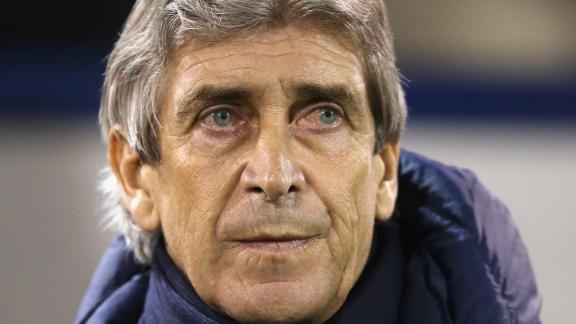 Pellegrini not dismissing title rivals
Sergio Aguero is a better striker than Luis Suarez -- and is the most complete player in the Premier League, according to Manchester City manager Manuel Pellegrini.
• Mooney: City out to exorcise St Mary's demons
• Curtis: Five early Christmas presents
City's Aguero and Liverpool's Suarez are the two leading candidates in the race to be the English top flight's leading scorer.
Aguero, 25, took his league tally for the season to 11 with the opening goal in his side's 3-2 win at West Brom on Wednesday.
But Suarez, 26, moved ahead of him to the top of the goal charts with four in a 5-1 win over Norwich in the same night, taking his league total to 13.
There has been plenty of debate as to who is the better forward, with Suarez's former Liverpool team-mate Jamie Carragher perhaps surprisingly going for Aguero in a recent Daily Mail column.
And Pellegrini agrees with Carragher's assessment, arguing that the Argentina international's all-round play makes him a more valuable asset.
The City manager said: "I think there are others who are better strikers, but they are not as complete a player as (Aguero) is.
"He is the most complete player in the Premier League.
"Suarez is a very important striker, but I think Sergio gives more to the team."
Aguero, who made his professional debut for Argentinian club Independiente at the age of 15, went on to make his name in La Liga during five years at Atletico Madrid before joining City for 38 million pounds in July 2011.
His biggest moment in Manchester to date was to score the injury-time goal in a 3-2 victory against QPR in May 2012 that secured City's first league title since 1968.
But Pellegrini thinks Aguero is now a better striker than he was in the 2011-12 season..
He said: "For me, a player has his best performances between the ages of 24 and 30.
"Sergio started very young, and I think every year he is improving.
"The best thing he is doing is scoring goals, but he has added to that his work for the team. He is maturing."