Manchester United 0-1 Everton
David Moyes branded 'chump' by press
December 5, 2013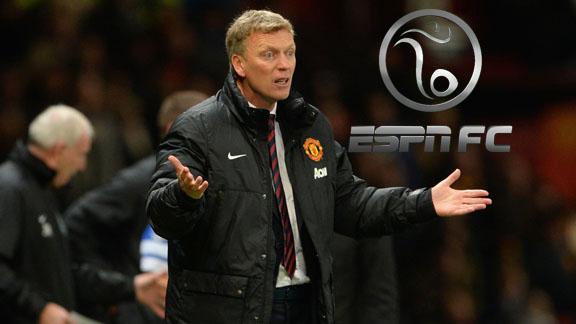 ESPN FC Extra: Manchester misery
David Moyes was not spared by the English press after Manchester United's 1-0 home defeat to Everton which leaves the defending champions ninth in the Premier League table.
• Brewin: Another big blow for United
• Payne: Everton party like it's 1992
• Martinez delighted with win
• Moyes 'sore' after defeat
Moyes was branded a "chump" on the back page of The Sun and highlighted the fact that he was unable to beat the Red Devils away during his tenure at Goodison Park by stating: "Moyes spent 11 years trying to help Everton win at Old Trafford -- now he's done it."
The Times had the headline "Moyes made to suffer by Everton's history boys" after the Toffees claimed a first league win at Old Trafford since 1992, when Peter Beardsley scored in a 3-0 victory.
The defeat leaves United on 21 points after 14 Premier League games, their worst haul at this stage of a campaign since the 2001-02 season, when they finish third -- 10 points behind eventual champions Arsenal. This season, United are currently 12 points behind the Gunners, who top the table.
Other / Daily TelegraphThe front page of the Daily Telegraph's sport supplement encapsulated Everton's joy and United's despair.
The loss was described as a "another dent in Red Devils' hopes of retaining the title" by David McDonnell in the Daily Mirror , which also declared that Moyes had "no hiding place" as "his troubled Manchester United tenure descended into full-blown crisis."
Moyes had spoken before the match about expecting a "mixed reception" from the supporters of his old club, and The Guardian's Daniel Taylor reflected on the travelling supporters booing their former boss before the match and chanting "You're getting sacked in the morning" at the final whistle.
By the end, the boisterous corner of Evertonians were crowing that his job was in danger," Taylor wrote. "Other chants carried far more malice but Moyes' greater concern must be the erratic nature of the team he has inherited from Sir Alex Ferguson."
In The Daily Telegraph, columnist Jim White focused on United midfielder Marouane Fellaini's "bad hair day" on his own reunion with his former club.
"It was the perfect chance for the new boy to play his way into form," White wrote. "Here was a cause. Here was motivation. Especially since his every touch drew a chorus of cat calls from the visiting supporters. But in truth his detractors did not have to exercise their larynx too hard. Fellaini was invisible here, utterly ineffectual, the Nick Clegg of the United midfield."
Roberto Martinez claimed a win there at the first attempt as Everton manager -- having previously overseen a 1-0 home win over them while in charge of Wigan which proved crucial in the Latics avoiding relegation in 2012 -- and Bryan Oviedo's 86th-minute winner on Wednesday night was described as a "bolt from the blue" by the Daily Telegraph.