Barca handed Jordi Alba boost
December 4, 2013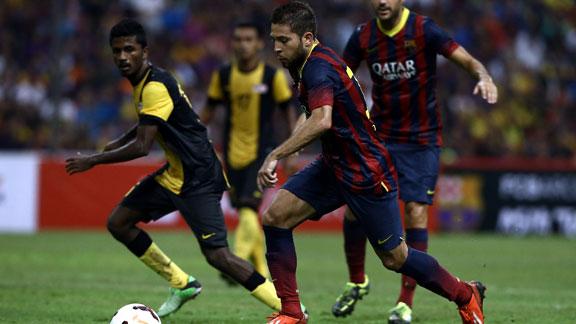 Alba rejoins Barcelona in training
Jordi Alba is set to return for Barcelona in Friday's Copa del Rey last 32 first leg at Cartagena, however Andres Iniesta, Xavi Hernandez and Carles Puyol are among the senior players likely to sit out the game.
• Tomas: Trusting Martino is the way forward
• Corrigan: Athletic Bilbao vs. Barcelona
Alba, who has been sidelined since picking up a hamstring injury during training in early October, returned to training with his teammates on Tuesday, and was again out for a joint session with Barca B on Wednesday morning.
"The first team continued its preparation for the Copa del Rey game against Cartagena," said Wednesday's club statement. "The session took place together with Barca B, on pitch number two in the Ciudad Deportiva. All the available players in the squad took part, including Jordi Alba, who the day before returned to work with the group."
Iniesta and Xavi, both taken off with their side trailing during Sunday's 1-0 La Liga loss at Athletic Bilbao, again missed Wednesday's main group session to do individual work on their respective fitness issues.
"Regarding Xavi and Iniesta, the two players did specific work," the statement continued. "The Terrassa native has problems with the calf muscle in his right leg, while Barca's '8' has muscle issues in his left hamstring."
Barca have been quieter regarding Puyol's situation, however fears are mounting in Catalonia that the knee injury which ruined his 2012-13 season has not completely gone away.
Club captain Puyol returned to action at Osasuna in October after almost eight months on the sidelines, and has since managed 350 minutes across four games. However AS say the defender, 35, had liquid drained from his right knee this week, and is unable to play consecutive games at the moment.
Speaking after training, Puyol's long-time defensive partner Gerard Pique admitted the situation was far from ideal.
"It is clear that he has his age and the problems with that cursed knee," Pique said. "It hurts him in games, but having him alongside you is like life insurance."
Martino is expected to field a mostly reserve side at Cartagena, and give minutes to squad members and young players such as Marc Bartra, Sergi Roberto, Alex Song, Cristian Tello, Martin Montoya, Patric Gabarron, Adama Traore and Jean Marie Dongou.
Pique was frank when asked whether he understood that frustration at not playing regularly in bigger games, as outlined by Tello and Montoya this week, could lead some youngsters to leave the club.
"I understand, but this is Barca, and the doors are always open for anyone who is not happy here," he said. "In the end what counts is to get results, that is what people want."
The Catalan centre-back also dismissed reporters' suggestions that the blaugrana squad was unhappy with training methods introduced by coach Gerardo Martino this season, and said he and his teammates were just focused on picking things up after last week's surprise defeats at Ajax and Athletic.
"We are not used to it," Pique said. "We played a good first half in Bilbao, despite what people say. They could have had a player sent off, but we must not use that as an excuse. The feelings from San Mames are much better than after Amsterdam. Either we give up or we lift ourselves up and climb out of this."