Martinez sets Everton target for UCL
December 4, 2013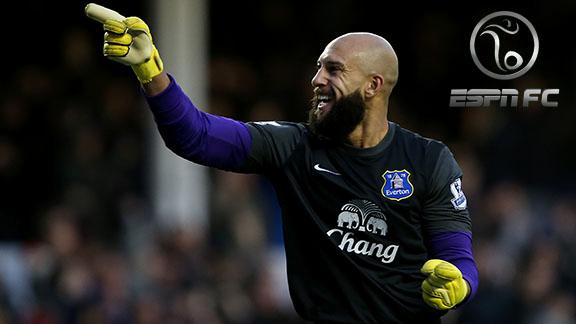 ESPN FC Extra: More Time Howard!
Roberto Martinez has set Everton a target of 71 points to seal Champions League qualification in his first season at the club.
• Cox: Lack of Moyes' identity to be tested vs. Everton
• O'Farrell: Martinez can end Old Trafford drought
The manager has done the maths to figure out exactly how well his players will need to do over the next five months to finish in the Premier League's top four.
In the 12 seasons that the Champions League had admitted four English clubs, only once has a team collected more than 70 points and failed to qualify. Tottenham finished fifth in May with a final total of 72 points, while the previous season they finished fourth with 69, but lost out on a Champions League place due to Chelsea winning the competition that year.
Everton made it into the competition's playoff round in 2005 with just 61 points, but missed out on the group stages after losing over two legs to Villarreal.
Martinez, whose side are in fifth ahead of Wednesday night's Premier League trip to Manchester United, have collected 24 points from their opening 13 games.
He wants them to maintain that average of just under two points a game for the rest of the season, so that they can enjoy a place in Europe's top club competition for only the fourth time in their history.
"To get into the Champions League, I can guarantee what you need to do is get an average of 1.94 points from the last 11 games," Martinez told the Daily Telegraph.
"That is what we are working towards -- getting into that position. Winning at Old Trafford or not is not going to affect being in that position.
"You need to be in a position where you can get around 70 points. If we get 71 points, we will be in the Champions League. It doesn't matter if we are 10th or 15th now. That's the way it happens."
Everton played in the old European Cup twice, losing to Inter Milan in the first round in 1962-63, and reaching the quarterfinals in 1970-71 before going out to Panathinaikos on away goals.
They would have qualified as league champions in 1985 and 1987, but English clubs were banned from Europe at the time.
The 2005 defeat against Villarreal is the only time Everton have played in the competition since it was rebranded as the Champions League in 1992.
According to chairman Bill Kenwright, Martinez declared during his interview for the Everton job that he could take the club into the Champions League.
The manager, appointed in June, has been cautious about saying as much publicly during his first few months in the role, but appears to be happier discussing it now.
"What we have got is a very good mixture of experienced players who know the game and what to expect and they give you that safe outlook in your performance and then we have these young, brave arrogant footballers who are facing the unknown," Martinez added.
"When you have that mixture that pushes you to compete against anyone.
"I do feel we have that raw talent. We are embracing that very good experience and that makes our squad a very tough squad to play against."