Jose: Pressure on City to win Prem
December 3, 2013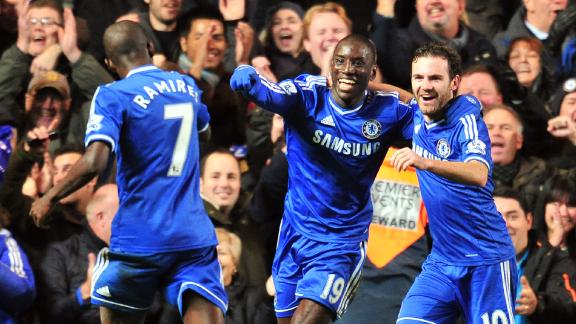 Chelsea find stride after early scare
Chelsea manager Jose Mourinho believes Manchester City face the most pressure to win the Premier League this season, but insists it is still too early to talk about favourites.
• Lythell: Chelsea turn tables
• Delaney: Mourinho's masterclass
The Portuguese claimed that there are still six teams capable of title glory at the end of the season, but that it is Manuel Pellegrini's side that are favourites because of their squad depth.
"I keep saying the same: I don't think we can speak about favourites. We can say that one team is top of the league and some are a little bit far, but I keep thinking that all six teams are title contenders," Mourinho said.
"But I keep saying that the team with more responsibilities to win it because their squad is quite unique is Manchester City."
Manchester United and Tottenham are nine and 10 points off the pace but they still remain in contention, according to Mourinho. However, if they fall any further behind they will find it hard to challenge.
"I think at this moment, Spurs and United know that if the next step is to reduce from 10 to seven, nine to six, it's to go again into the race but if the next move is from 10 to 13, or nine to 12, it becomes hard.
"In this moment, some teams like Arsenal are a lot more comfortable because they can slide one match and nothing happens to them. Some other teams know the next night can be crucial. But the six teams are very equal in their potential.
"Different teams in the way they play, in their profiles, but potentially all six are very good teams. Other teams are doing very well -- Everton, Southampton, Newcastle -- but in the end these six are the real title contenders.
"I keep saying: there's a lot to play in December. At the beginning of January we can have a look and say if all six are with short distances, or if someone has opened up a real gap. At this moment until the end of the year, it's a moment not to decide but to clarify a bit the situation."
Mourinho also expressed the need to make his team decisive as the title race gathers pace, a theme he has been warming to over the past week.
He spoke after the 3-0 win over West Ham United of the need to make his squad cope with the "responsibility" of winning the title and echoed that again ahead of Wednesday's match against Sunderland.
"There's still a lot of progress to be made. I think that there are things in the job that are not easy," he said. "One of the things is to make the pressure of fighting for the title to be something natural, something that players accept in a positive way, not in a negative way.
"We have here some people who won the title before, but they've not won it for quite a long time. When you don't do that for quite a long time, you forget it. We've also got players who were playing in clubs not used to fighting for titles, clubs who'd do fantastic one day and see what would happen the next.
"Finishing fourth or fifth or sixth, and that wasn't bad and meant the same thing. That pressure to try and be top of the league, knowing that every little detail and every point can make a difference.
"We have different strategies [to develop that mentality], and I have to see how they react. Some might not react in the best way under that pressure in a direct way. It's a process. It's not something you do with a click, but I want them to feel like I feel. In my career, I've only finished first or second. If I'm not there, I'm not comfortable."
Meanwhile, Mourinho revealed Samuel Eto'o has recovered from injury quicker than expected and may start against Sunderland, but that David Luiz and Oscar will definitely miss out.
"David Luiz is not training with the team," Mourinho said. "He's still with the medical department. I don't know how long... let's see for the weekend.
"We are playing for quite a long time with John [Terry]and Gary [Cahill], so I hope sooner or later I have David so I can rotate a bit like I can do in other positions. At this moment, I can't do it at the back.
"Eto'o is training with the team. He started yesterday, so I'll see today. He looks fine. Oscar is not in condition for this match."