Ancelotti: No problem with Ramos
November 29, 2013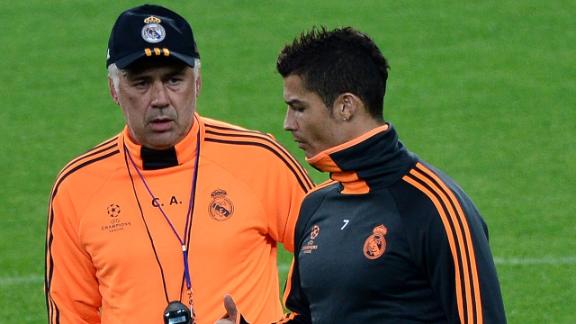 Ancelotti not risking Ronaldo against Valladolid
Real Madrid coach Carlo Ancelotti says neither he nor club president Florentino Perez have any issues with Sergio Ramos, while rubbishing suggestions the defender could be on his way out of the Estadio Santiago Bernabeu due to internal feuding.
• Train: Ramos' red mist a Real concern
Ramos' future at Madrid had been questioned after a week which saw him extend his club record number of red cards to 17 with a silly dismissal in Wednesday's 4-1 Champions League group win over Galatasaray, and Ancelotti was clearly angry with his player as he walked off the pitch.
Then came reports of a serious split between Ramos and Perez, with some even suggesting the Blancos chief would have no problem selling the Andalucian to La Liga rivals Barcelona if the price was right.
Reporters watching the open part of Madrid's training session on Friday morning saw Ancelotti talking at length with Ramos. But the Blancos coach told reporters after the session there was nothing in that and the Spain international would stay in the team for Saturday's Primera Division game at home to Real Valladolid.
"I have no problem with Sergio Ramos and he has no problem with me," Ancelotti said in AS. "I just said he needed to cover his back, it was a tactical chat. It was a mistake, but it does not change anything. To make mistakes on the pitch is normal, everyone knows that. He is fine and will play tomorrow. He will do well."
The Italian said he had seen no evidence of a breakdown in the relationship between the club's vice-captain and president, an idea which grew when Ramos publicly snubbed Perez at a sponsors' event on Thursday.
"I talk a lot with the president and we have never spoken about this," Ancelotti said. "Everyone knows how important Ramos is, with his technical ability, his personality and for the history of this club. I do not know about their relationship, [but] the president gets on very well with all the players."
Selling Ramos -- even for a reported price of 65 million euros -- would not be a good idea, Ancelotti said, as the club's current set of centre-backs was perfectly balanced.
"[Ramos] is one of the best central defenders in the world," he said. "We have Pepe and Ramos, with lots of experience. And [Raphael] Varane and Nacho, who are very young and need older players to help them improve."
Ancelotti also confirmed that although Cristiano Ronaldo had returned to training with his teammates on Friday morning, he would not be risked against Valladolid as he was still not over a thigh injury.
"This morning we did a scan, [Ronaldo] is not comfortable and has not trained too much," he said. "The muscle has recovered well, but we will not take any risks. He has a fortnight to get ready for the next game [at Osasuna on Dec. 14]. In his place [Angel] Di Maria will play."
Xabi Alonso and Luka Modric should both return to the starting XI against struggling Valladolid, while Karim Benzema is likely to come back in up front after being rested midweek.