Arturo Vidal eager to extend Juve stay
November 28, 2013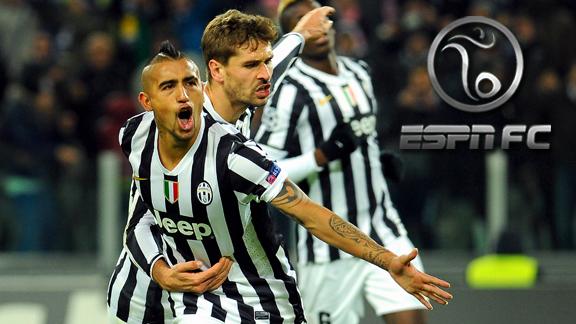 ESPN FC: Old Lady feeling good
Juventus match-winner Arturo Vidal said he would be delighted to extend his contract with the club having taken them closer to the knockout stages of the Champions League on Wednesday night.
• Rzouki: Vital Vidal earns Juventus win
His first career hat trick earned Juventus a 3-1 win over Copenhagen which means only a draw at Galatasaray in their final group game would be enough to see them through to the last 16 along with group winners Real Madrid.
Vidal wants to be part of that knockout stage, in spite of growing interest in the Chilean midfielder, who only sees his future in Turin.
"I'm always delighted here -- the Juve shirt is very important for me," he said. "I always try to help my teammates when I play. I think we're really close [to a new contract], there's just some very, very minor things to iron out.
"I would even sign it tomorrow. I'm just waiting to hear what the club think."
Negotiations over a new deal for Vidal are expected to move on with the club's general manager Beppe Marotta singing from the same hymn sheet on the eve of the Copenhagen match, saying an announcement was "imminent" and that coach Antonio Conte need not worry about losing Vidal.
With the contract almost in the bag, Vidal now wants to ensure qualification for the knockout stage of the Champions League for the second year running, with a win in Turkey.
"We've taken a giant step towards qualification," Vidal said. "We've got to play with our heads in Turkey, and play to win. At Juventus, we always play with that objective. In Istanbul, we've got to demonstrate that we're stronger than Galatasaray."