Conte: UCL 'destiny' in Juventus' hands
November 27, 2013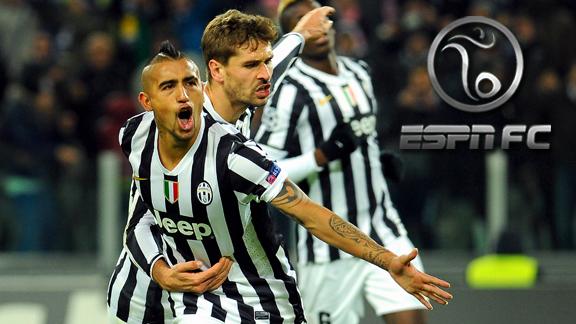 ESPN FC: Old Lady feeling good
Juventus manager Antonio Conte admitted the club's Champions League 'destiny' is in their hands after defeating Copenhagen.
APAntonio Conte said Juventus' destiny was in their own hands.
The reigning Serie A champions recorded a 3-1 victory over the Danish club thanks to hat-trick from Chile internatio0nal Arturo Vidal.
The result moves Juventus up into second position in Group B with six points ahead of the final battle for the knock-out stages with Galatasaray.
Galatasaray, on four points, sit in equal third position with Copenhagen heading into the final group match.
However, Conte said his team survival in the competition was in their own hands.
"Our European journey last season was virgin territory, as we hadn't been in Europe before under my tenure," Conte told Sky Sport Italia.
"This year we made life difficult for ourselves in previous games against Copenhagen and Galatasaray, perhaps also against Real Madrid, so if we hadn't dropped those points we'd already be qualified.
"It will be very fiery in Istanbul, but we put ourselves in this situation and have to deal with it. Our destiny is in our hands, so that is the important thing, as we don't have to rely on anyone else's results.
"Our DNA does not allow for calculations. We are going there to win and that is the only way we know how to play. If Galatasaray do better, then we will applaud them, but we are incapable of sitting back and waiting for opponents to come at us. We took the game to Bayern Munich, Chelsea and Real Madrid, so we'll do it to Galatasaray, that is beyond doubt."
After defeating Copenhagen, Juventus have now recorded a seven-match unbeaten stretch and Conte said his "great men" deserved praise for the improved results.
"We knew Copenhagen were dangerous with balls flung into the box, from a free kick in the first game and a throw-in this time. We made life complicated for ourselves, but did well to get straight back on track with a second and third goal," Conte continued.
"This was a deserved victory in every aspect, though I would've been much happier if we had not conceded that goal.
"Results have certainly improved over the last month and a half, but I don't think the performances were that different. When you get that slap in the face we did against Fiorentina, which nobody expected, it perhaps shook up the pride and determination that had slightly settled.
"As I always say, I trust this team because I have great men even more than great players, so they know when something is wrong and are hyper-critical of their own performances."