PSG agree Parc des Princes deal
November 27, 2013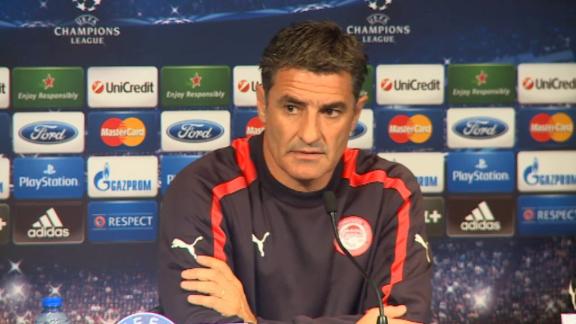 Olympiakos eye Parisian upset
Paris Saint-Germain and the city of Paris have struck a deal that ties the club to its Parc des Princes home for the next three decades.
• Motta: PSG can win Champions League
• Blanc to be offered new deal - report
When Qatar Sports Investments (QSI) took over PSG in the summer of 2011, the group reportedly sought to move the club out of the Parc des Princes, situated in the south-west of the French capital, to a bigger venue.
PSG president Nasser Al Khelaifi has, however, more recently declared a desire to attempt to renovate and enlarge the club's 45,000-capacity current home, where they have played since November 1973.
In the agreement with the municipal authorities that own the stadium, the French champions "have committed to a very ambitious renovation programme" that will modernise facilities for both fans and media, according to a statement on the club's official website.
"This agreement with the city of Paris is in line with our ambition of building one of the biggest European clubs and a global sporting brand via the values and global reach of Paris," PSG's CEO Jean-Claude Blanc is quoted as saying.
"Through our renovation programme, we're happy to be making a significant contribution to the organisation of Euro 2016, allowing France and the city of Paris to keep its commitments to UEFA."
Le Parisien reported that PSG will invest 75 million euros in the renovation work, which should be completed in 2015 and will see the capacity upped to 47,000, while the players' dressing rooms will double in size.
As of next year, the club will pay the city 1.5 million euros a year in rent, some three times the estimated current amount, while the Paris authorities will also receive a percentage of the club's revenue created by the stadium. Should QSI decide to allow a sponsor to put its name to the Parc des Princes, the local authority would also receive a share of that income.
In return, the local authorities will be expected to help QSI further their ambitions of increasing the stadium's capacity to 60,000 post-Euro 2016.