Milan win was 'present for Berlusconi'
November 27, 2013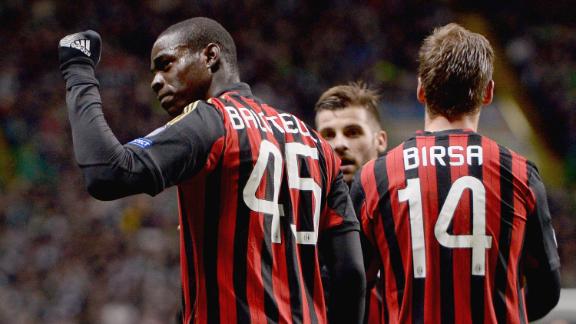 Celtic out as AC Milan run rampant
AC Milan vice-president Adriano Galliani dedicated his side's 3-0 win over Celtic on Tuesday night to club president Silvio Berlusconi, the man who effectively has a decision to make over his own future.
• Brewin: Three things from Celtic vs. Milan
• Paul: Milan respond with comprehensive win
• Berlusconi: Milan need me
Galliani's position has never been as precarious as it is now with Berlusconi's daughter Barbara pushing for a revolution at the club. The president and Galliani have been business partners for nigh on three decades, though, and the vice-president looked to reinforce an already strong bond by saying Tuesday's crucial Champions League victory was for him.
"It was so satisfying for us," Galliani said. "It's a present for our president and for all he is doing for us. This is a wonderful evening for him."
After a difficult start to the season, Milan rose to the occasion emphatically in Glasgow to give coach Massimiliano Allegri a stay of execution, proving once again that when it comes to the Champions League, they manage to find an extra gear.
"This is our DNA and that rarely lets you down," Galliani said. "We usually do better in the Champions League than in the league. I may be partial, but [Mario] Balotelli had a great game. I rate him so highly, and then he has Kaka behind him which can only do him good.
"I can't remember seeing a Milan side score from two corners either -- usually we concede from them."
The job has not been done yet, however, and Milan need to demonstrate their Champions League calibre one more time to join Barcelona in the knockout phase of the competition.
They host Ajax in a fortnight's time needing just a draw to go through, but with two more Serie A games to come before that night, Allegri still cannot be certain he will be in charge for that game if his players continue to struggle domestically.