Wenger and Flamini in row over shirt
November 27, 2013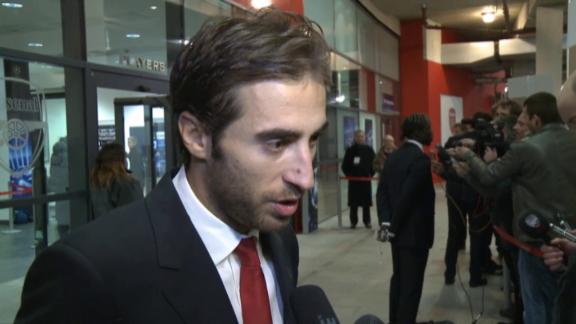 Flamini: Arsenal spirit is amazing
Arsene Wenger gave Mathieu Flamini a public dressing-down following Arsenal's 2-0 Champions League win against Marseille on Tuesday for cutting off the sleeves of his shirt.
• Horncastle: Wilshere at the double
• McNicholas: Victory shows growing strength in depth
The Gunners edged closer to the last 16 of the competition thanks to two goals from Jack Wilshere, but Wenger was still left angered by the behaviour of Flamini.
The former AC Milan player, as he has done for previous Arsenal games, used a pair of scissors to shorten his long-sleeved shirt into a short-sleeved version.
In doing so, Flamini went against the North London club's tradition of the whole team wearing the same type of shirt selected by the captain before kick-off.
The midfielder had been involved in a row with Gunners kitman Vic Akers before and after his previous game against Manchester United earlier this month, and after Tuesday's match Wenger made clear his feelings on the subject.
"I do not like that and he will not do that again," he said in the Guardian. "I was surprised he did that; we don't want that."
Flamini, though, suggested he will continue to defy his manager.
"I've been playing at the top level for 10 years," he said. "I like to wear short sleeves, that's what I like to do."
Olivier Giroud was also wearing short sleeves against Marseille, although he had rolled them up rather than cut them off.