Silvio Berlusconi: AC Milan need me
November 26, 2013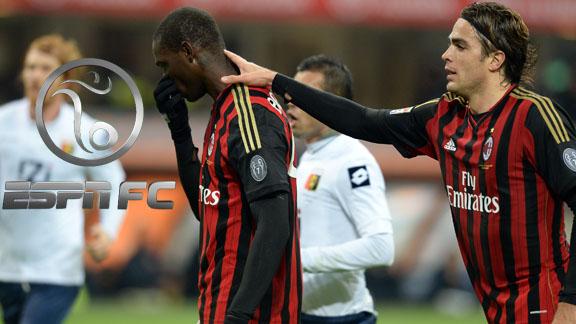 ESPN FC: Crucial clash in Glasgow
AC Milan president Silvio Berlusconi has said feels his club need him now more than ever – but stressed that politics remains at the top of his agenda.
• Paul: Celtic trip a real test of character for Milan
Berlusconi announced his plans for his new Forza Italia party on Monday, but the struggles of his "hobby" club are worrying him, and he believes his absence is one of the causes of their current problems.
"AC Milan have an extreme need of me, and that's not just the way I see things," he said at a news conference. "I am forced to remain [in politics] even though I have many hobbies, one of which needs me."
Berlusconi has remained quiet over recent weeks as clamour has grown for coach Massimiliano Allegri to be replaced after the club's worst start since their last relegation to Serie B in 1981-82.
However, Berlusconi did not give Allegri a vote of confidence, sparking speculation that his days are numbered, no matter what the outcome of Tuesday's Champions League game with Celtic.
"I'll see you when I get back to the San Siro and I'll give you the answer you are asking for there," he replied when asked whether Allegri would be dismissed.
Milan are four points above the Serie A relegation zone after 13 games and are 10 points adrift of the top five and a place in Europe next season.
Defeat to Celtic, meanwhile, would compromise their hopes of reaching the last 16 of Europe's elite club competition.