Lucas: I am 'similar' to Luis Suarez
November 22, 2013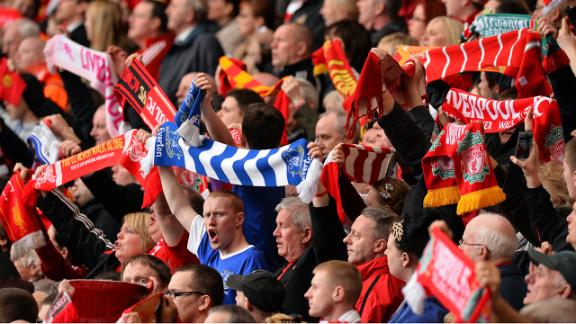 An inside look at the Merseyside derby
Lucas Leiva has told the Daily Mirror that he has plenty in common with Liverpool teammate Luis Suarez -- despite their very different on-field temperaments.
• Walsh: Liverpool await the Rodgers-Martinez derby
• Bennett: Super-positive Martinez unfazed by battle
Uruguay striker Suarez is well-known for his volatility, while Brazil midfielder Lucas is more of a calming influence.
Both will have a key role to play in Saturday's short trip to face neighbours Everton in the Premier League.
And Lucas told the Daily Mirror: "We are very different characters on the pitch -- or maybe not different characters, but we definitely have different reactions.
"I'd say off the pitch we are actually pretty similar, believe it or not. We like to stay with our families, and be with our kids, Luis really is like that too. That's why we are so close. We have a lot of things in common, and we wouldn't have such a close relationship otherwise.
"But of course everyone has a different emotions, and different ways that you show it. Yeah, some of his emotions, you just shrug and smile at them, but really none of it surprises me because I am with him every day. The way he plays is exactly the same as the way he trains.
"I think that emotion is part of him, and part of his make up as a player. But it's not the only thing. Being an emotional guy won't take you to the very top. His incredible talent is the most important thing.
"He has such an instinctive talent, he is so different in what he does, and that is what people maybe sometimes don't appreciate, but it is why we are so happy to have him here."
Lucas, a 5 million pounds signing from Brazilian club Gremio in July 2007, has not always enjoyed his Merseyside derby experiences.
He heard boos from his own fans as he came on for his derby debut at Goodison Park as a substitute in October 2007, because he was replacing Liverpool favourite Steve Gerrard.
It turned into a happy occasion, though, as he won the penalty that sealed a 2-1 victory when his goal-bound shot was handled on the line by Phil Neville.
He recalled: "It was my Premier League debut, and was a difficult way to make it because I replaced Stevie and the crowd booed the substitution.
"We have some fantastic games over there, but probably coming on for my debut and making such an impact at the very end will be something I will always remember. It could have been a fairy tale but for Neville's save, but it was huge anyway."
Then in January 2009, Lucas was sent off during a 1-0 FA Cup fourth-round replay defeat at Everton. At the time, he was going through a poor spell of form, to the extent that his Anfield future was in doubt.
But the 26-year-old recovered to become a key figure in Liverpool's side. Lucas said: "We want to put Liverpool back at the top, to get the team back in the Champions League because we know how important it is. I've tasted those nights, and we all really want them back.
"If you look at our record from January, over a whole year, it matches the top teams. We have a crucial period coming up in December when we play seven matches, and if we can into that with a win in the Merseyside derby, it will be massive."