Hugo Sanchez blasts celebration
November 14, 2013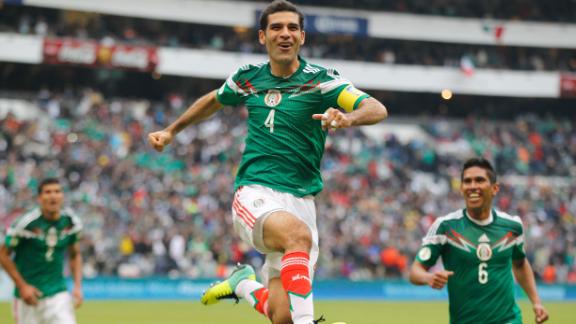 Highlights: Mexico 5-1 New Zealand
Mexican soccer icon Hugo Sanchez blasted his countrymates for celebrating El Tri's 5-1 victory over New Zealand with too much enthusiasm on Wednesday.
• El Tri player grades | Is El Tri back?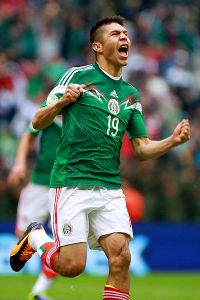 Hector Vivas/Getty ImagesOribe Peralta celebrates one of his two goals in Mexico's 5-1 win over New Zealand.
"To be really happy we would have to have finished in first place in our zone or at least in second place," Sanchez told El Universal. "We beat a team that is no more than a group of buddies who were rejected because they couldn't play rugby in New Zealand well and they had no choice but to switch to soccer."
Mexico trounced New Zealand in the first leg of their intercontinental playoff on Wednesday to become the overwhelming favorite for a last-chance place at the 2014 World Cup. Mexico, which squeaked into the playoff, now just needs to finish the job in the second leg next Wednesday in New Zealand.
"We haven't won anything yet," Mexico coach Miguel Herrera said. "Only one game. Over there (in Wellington next week), we will play as if this playoff was beginning, as if we were zero to zero, as if it were only for one game."
Mexico scored only seven goals in 10 qualifying games, but broke through under Herrera. Herrera, the fourth Mexico coach in two months, used only players based in the national league, omitting stars like Javier Hernandez of Manchester United.
Sanchez, the former El Tri coach, said that as a Mexican he is happy that "we are almost in the World Cup," especially because the coaches and players "deserve it because this is their livelihood."
However, Sanchez blamed Mexico's soccer administration, in particular the league owners who wield power over the national team.
"Those who were the most worried were the team owners, if not all those in charge of Mexican soccer in general; some for the amount of money they were going to lose, or fail to earn, along with the federation," he said. "Some would even have lost their jobs. Now they should really be shaking if the qualifying goal is met next week, because a lot of them are going to think they have done a marvelous job. And the only thing they have done is make the whole country suffer with their bad decisions that put Mexico at risk for qualifying in a tournament that has always been easy work for them within CONCACAF."
Mexico finished behind the United States, Costa Rica and Honduras in CONCACAF qualifying, with those three advancing automatically to Brazil. Mexico only secured fourth place after the United States scored two late goals last month to defeat Panama -- which was winning at the time and would have reached the playoff.
Information from The Associated Press and ESPNDeportes.com was used in this report.