Ramsey: Arsenal confident ahead of Utd
November 7, 2013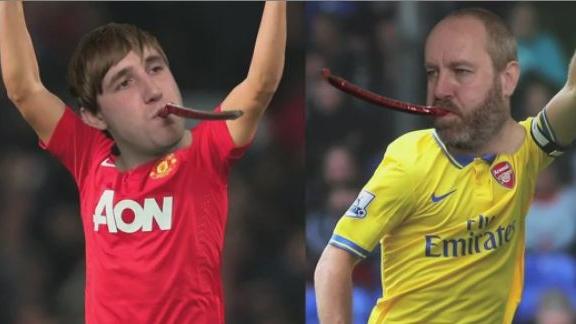 How Will They Line Up: Man United vs Arsenal
Aaron Ramsey has said Arsenal head to Manchester United boosted by their run of fine form as they look to further enhance their Premier League title chances.
• Delaney: Something old, something new
• Cox: De Gea, Szczesny extend grand goalie traditions
• Top Tenner: Goalscoring 'keepers
• Dall: Premier League Spotlight
After an opening day loss at home to Aston Villa, Arsenal have put together an impressive sequence of results and are five points clear at the top of the table.
The Gunners defeated Liverpool in their last league outing before overcoming Borussia Dortmund in the Champions League on Wednesday.
Arsene Wenger's side suffered a 2-1 loss to United in the corresponding fixture last season, but Ramsey is hopeful Sunday's game will be a different story.
He said in the Daily Mirror: "I think the boss said the other day that, from January, we're the team in the league who have picked up the most points.
"I don't think our form has been that bad after Christmas. In the last few seasons, we've had to dig in and get a load of points to get fourth place. We've managed to do that.
"Our biggest problem over the last few seasons has been starting off well. But we've managed to do that this season. If we get ourselves into a strong position, then our ability to get as many points as we can in the run-in has been second to none.
"We had a fantastic run-in to last season, and after the disappointment of the opening game of the season we managed to build on that and keep it going.
"If we can do that now and keep it going up until Christmas, then we know that we have the ability to compete. So far, we've shown we've got what it takes.
"We've got a massive game now at Manchester United and in the past few seasons we've struggled to go there and get a good result, so hopefully we'll feel a lot more confident and this will be the time when we do manage to do that."