Allegri handed Milan job assurances
November 5, 2013
Massimiliano Allegri's job as AC Milan coach is safe for the time being, although the club's general manager Adriano Galliani has warned that bad results cannot persist for much longer.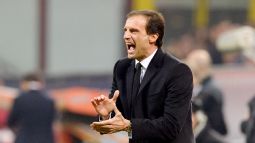 Claudio Villa/Getty ImagesMassimiliano Allegri has been AC Milan's coach for three-and-a-half years.
• Paul: Time for Allegri to go?
• Changes afoot at Milan
The Rossoneri have made their worst start to a Serie A season since 1981 and are already 16 points adrift of the top three after only 11 games.
Their hopes of qualifying for the Champions League again next season appear slim, particularly given the form of Roma, Juventus and Napoli, but Galliani believes it is just a temporary lull and insisted Allegri will not be made to pay -- at least not yet.
"This is not a decisive week for us," Galliani told the Gazzetta dello Sport . "Every coach depends on results and if one loses forever, then there's not one coach who keeps his job. It's certainly a difficult moment for us because the results aren't arriving, but we move on hoping things will improve.
"We've been through other difficult moments in 28 years. There are good and there are bad times and sport works in cycles, so let's hope the rest of the season is better.
"Remember that we've finished second and third in the last two seasons and we're the only Italian club always to be represented in the Champions League for many years. Milan are much better than how they look right now.
"Getting back to Allegri -- we have faith in our coach."
It has been speculated that faith in Galliani himself is diminishing, though recent comments from Barbara Berlusconi -- Milan board member and daughter of club president Silvio -- calling for change were not thought to be directed at the Rossoneri vice president.
Getting rid of Galliani would be akin to Real Madrid showing Cristiano Ronaldo the door, however, in the opinion of former Milan coach Carlo Ancelotti.
Speaking at a news conference in Turin on the eve of his side's Champions League clash with Juventus, Ancelotti said: "I worked many years with Galliani and personally I think he's one of the best managers in the business.
"You can compare him to Cristiano Ronaldo. He's a player in a different category and Galliani is in a different category when it comes to management. It's a difficult time for Milan and I hope they can resolve things quickly."