Ancelotti praises 'the real' Gareth Bale
October 31, 2013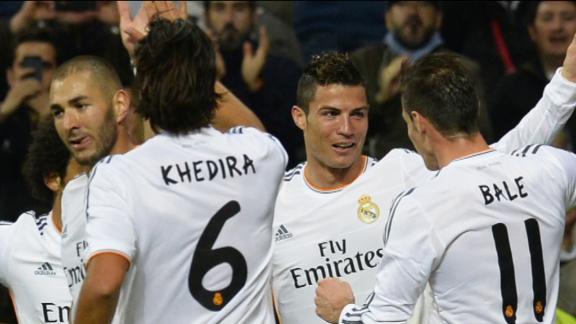 Ancelotti: Bale, Ronaldo and Benzema are dangerous
Real Madrid boss Carlo Ancelotti believes Gareth Bale finally proved his worth with a starring display in Wednesday's 7-3 win over Sevilla.
Bale scored a brace and provided two assists in an eventful win for Los Blancos and the Welshman's performance garnered high praise from his team-mates and coach.
• Train: Real stars put on a show
Ancelotti insists Bale's overall movement shows he is gradually adapting to the La Liga style.
"Tonight everyone saw the real Gareth," he said. "He played really well, showing fantastic skills. It takes time [to adapt] but it was a necessity. Now he doesn't have problems physically and he is improving his confidence, so he will be very important for us in the future."
Real's attacking line proved most effective, with Cristiano Ronaldo grabbing a hat-trick and Karim Benzema breaking his goal drought with a double of his own.
The potency in front of goal helped to cancel out the Spanish champions' defensive woes, as Sevilla made a number of valiant attempts to salvage a result.
"It was a bit of a crazy game, we started very well and were 3-0 up," Ancelotti added. "We then lost a bit of concentration and balance and the game was alive again. Offensively we played very well, we scored a lot of goals. We had a lot of good individual performances, especially up front."
Midfielder Xabi Alonso made his return from injury and Ancelotti is happy to gradually ease the Spain international back into the squad.
"We need to give him minutes, he was desperate to play and I think he is ready to play from the beginning," he said. "He has done everything he needs to be physically ready and he is a player that doesn't need the physical conditioning of others because he has so many other qualities."