Suarez excited by Sturridge partnership
October 25, 2013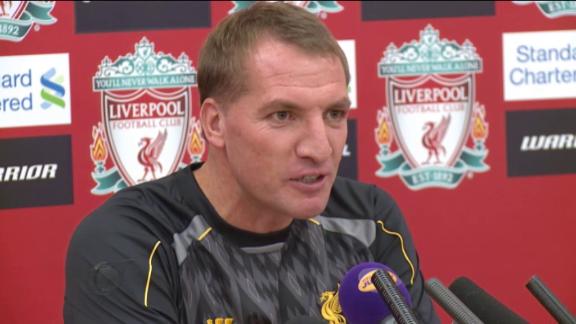 Rodgers: Ferguson wrong about Gerrard
Luis Suarez believes his strike partnership with Daniel Sturridge can help guide Liverpool into the Champions League.
GettyImagesLuis Suarez and Daniel Sturridge have proved a dangerous duo for Liverpool.
• Walsh: Scene is set
The two forwards have hit ten Premier League goals between them this season to boost hopes of a top-four finish for the Reds.
Sturridge is the division's top scorer with seven goals, while he has hit two more in the Capital One Cup and one for England.
Suarez, meanwhile, has netted three times in four games since returning from a ten-match domestic ban imposed for biting Chelsea defender Branislav Ivanovic during a 2-2 draw at Anfield on April 21.
The Uruguay international wanted to leave Liverpool during the summer -- with the club rejecting two bids from Arsenal -- but he has knuckled down since returning to action, and feels that he and Sturridge can bring success for Reds manager Brendan Rodgers.
Suarez told Liverpool's official website: "We are trying for progression. He is 24 and I am 26, so we are trying our best to progress for the future of the club.
"We know in the last few seasons, Liverpool have been not been in the Champions League and we know we can help the team challenge for the top four.
"I am so happy because when you have a very good striker, and a very good partner, for defenders it is difficult because they have to give their attention to two players -- not just one.
"If maybe two defenders come towards me, this creates space for Danny. This is important not just for me, but for the team and our confidence.
"He is a very good player. He had difficult moments at Chelsea and City, but this is a good time for him and I am so happy with him."
The Sturridge-and-Suarez partnership has been dubbed by Liverpool fans as the 'SAS' -- after the British Army's Special Air Service unit, famed for carrying out difficult and high-risk operations.
Suarez formed an effective understanding with Klaas-Jan Huntelaar during a season-and-a-half together at Ajax, but he believes he could yet have a better one with Sturridge.
He said: "Three or four years or more ago, when I played with Klaas-Jan Huntelaar at Ajax, he had a very good partnership with me.
"Now, with Daniel we are trying our best and we can improve. Maybe in a few years I will be able to say my best partnership was with Daniel Sturridge, especially if we can continue to progress."