Wenger sad to see Holloway go
October 25, 2013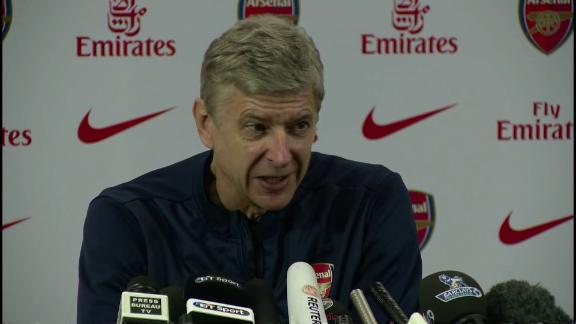 Wenger looking forward to reading Fergie's book
Arsenal boss Arsene Wenger has backed Ian Holloway to return to management after he left Crystal Palace by mutual consent this week.
• Cross: Strength of Giroud a real positive for Arsenal
• Dall: Arsenal seek response at Palace
Wenger's Premier League leaders will take on Palace at Selhurst Park on Saturday, with the Frenchman offering words of consolation to Holloway after his brief return to the top division of English football.
"It's very harsh on Ian Holloway," Wenger said. "He has done exceptionally well with Crystal Palace to get them up into the Premier League. It's very difficult to do that. I find it very quick and very early to separate with Holloway as he has an exceptional talent to manage a football team.
"I expect him to be back. He is a football man. He has something that belongs to him that is special. There is a strength in there that he can take people on board with him.
"Defeat after defeat when you want absolutely to win drains you down and that can happen to anybody. When you are older you can deal with it better, but to lose a succession of games is very difficult to swallow."
Tony Pulis is tipped to take over at Palace and while Wenger admits he is not exactly an admirer of the style of football promoted by the former Stoke boss, he offered this endorsement for his possible return to the Premier League.
"I heard that [Pulis] will take over," said Wenger. "I understand they want to go for a manager with experience. Tony Pulis is one of them. If he gets there, he will certainly play his way. He has done well at Stoke, it was very efficient. I respect every style of play.
"You can only be a good manager if you play with your gut feeling. He has done a fantastic job at Stoke."
Wenger has confirmed that midfielder Mathieu Flamini will return to action after he missed Tuesday night's defeat against Borussia Dortmund, as he urged his side to respond to a Champions League defeat that halted their forward momentum.
"We want to respond quickly," he stated. "We have faced that already in our season and I'm confident in that capacity of my team to respond very quickly in a very strong way. That is the target tomorrow.
"I believe that the defeat against Aston Villa was under exceptional circumstances and didn't reflect the game. On Tuesday night, we were victims of wanting too much just to win the game. The heart took a little bit over the head and we opened ourselves up and we lost this game.
"Honestly, our keeper has zero saves to make, their keeper has not a lot to save also and a draw would have been a fair result. We have been a victim of wanting too much to win the game."
Wenger added that he sympathises with club captain Thomas Vermaelen, who has struggled for playing time so far this season, but offered warm compliments to the Belgium defender as he waits for his chance in the Arsenal line-up.
"I understand his frustration," he added of Vermaelen. "It is unfortunately part of our job that we frustrate people. He is a credit to his job if people behave like him. His time will come and in our job, the most important thing is to be ready."